Being a big fan of smoking my meats and fruit I sometimes like to just start smoking or slow cooking immediately without the hassle of charcoal or if I happen to run out of liquid propane (LP) gas which is why most people use electric smokers as opposed to charcoal or propane. Looking for top quality electric smokers in 2023 can be a challenge, so how do you find the best electric smokers for your family's enjoyment while also saving money? Well check out our top-rated products below and take your time … no reason to rush through this. Take a good look at each smoker and then decide which is your flavor! For this category, we listed brands that meet our criteria; Masterbuilt and Smoke House are among our favorites. Go through the list below and read our reviews for each. Remember to click BRAND to get to a brief intro (below the table) then click through again for a full review. Have fun!
UPDATE! Since COVID has interrupted many domestic and foreign manufacturers – there are many products that we like and recommended but now are currently UNAVAILABLE for purchase. So, we created an AMAZON Storefront that now provides easy access to top-rated Grills and Smokers in an easy to read list. These are our IDEA LISTS. Please click link to visit our Recommended Electric Smokers.

Top Electric Smokers Comparison Table
Brand
Type
Features
Warranty
Rating
Price
Bradley
Smoker – Jim Beam BTDS76JB
Elec
500 Watt heating bar, 125 Watt burner, 690 Sq in. cooking area, Auto-feed, Time/Smoke/Temp settings
1 Year
3.9/5
$$$$

Check Price

Masterbuilt 30″ 20070910

Elec
800 Watt heating element, 730 Sq. in. cooking space, Thermostat temp control
90 Day
4.4/5
$

Check Price

Smoke Hollow 26″ 26142E

Elec
1500 Watt heating element, 1.3 Cubic ft. cooking space, 2 chrome plated grids
1 Year
4.2/5
$

Check Price

Bradley
Smoker BS916 Digital Bluetooth
Elec
Two (2) Heating elements; oven and smoke control, 780 Sq in. cooking area, Auto-feed, Bluetooth Technology, 6 racks
1 Year
3.6/5
$$$$$$

Check Price

Char-Broil 38″ 14201677
Elec
1500 Watt heating element, 38″ high, 505 Sq. in. cooking space, Insulated double-walled construction, Wood chip & water pan
1 Year
4.1/5
$

Check Price

Masterbuilt 24″ 20073716
Elec
1400 Watt heating element, 24″ high, Portable, Folding legs
90 Day
4.3/5
$

Check Price

SmokeHouse -Little Chief
Elec
250 Watt heating element, 4 chrome plated grills, Made In America
2 Year
4.2/5
$

Check Price

Smoke Hollow 36″
3616DEW

Elec
1500 Watt heating element, 38″ high, 3 Cubic ft. cooking space, Tempered glass viewing window
1 Year
3.7/5
$$

Check Price

Masterbuilt 40″ 20075315
Elec
1200 Watt heating element, 40″ high, 975 Sq. in. cooking space, Digital panel, RC, Thermostat temp control
90 Day
4.4/5
$$$$

Check Price

Bradley
Smoker – BS611 Original
Elec
500 Watt heating element, 125 Watt Smoking element, 572 Sq in. cooking area, Auto-feed, 4 removable/adjustable racks
1 Year
4.0/5
$$$

Check Price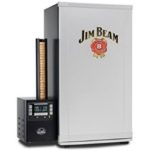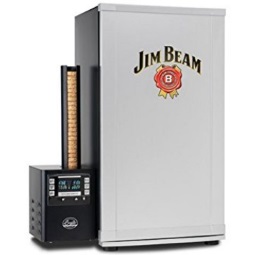 Hey all you Jim Beam fans … we know that after taking one good look at this cool smoker you'll want it in your home. I got to see this smoker in action one day at a BBQ cook-off in Alabama one weekend while passing through. One of the contestants had this in their tent smoking ribs and pulled pork. I never saw this finished product but I got to talking with this gentleman and he says he had many smokers in the past and finally ended up using this one for all his smoking. The auto-feed mechanism is what sets this unit apart from most. People like this feature as it lets you be free from watching it all the time not to mention it keeps the smoke and temperature pretty consistent which is what you really want in a smoker. This unit comes with a 500 Watt heating bar and a 125 Watt burner. You'll get 4 racks with user-friendly digital controls. Click here for more details >>>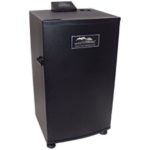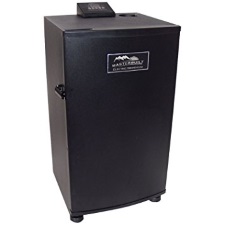 This model from Masterbuilt is rated rather high on Amazon from over 4,000 customer reviews and is a "#1 Best Seller" in the Outdoor Fryers & Smokers section. It is a solid electric smoker with offers about 730 square inches of cooking space along with four chrome plated smoking racks and a nice powerful 800 watt heating element. On this Masterbuilt Smoker model 20070910 also has accurate digital temperature and timer controls so you'll get even cooking from 100 to about 275 degrees Fahrenheit. We really like this model to to its low price, convenience and ease at which a person who is not experienced can still do a great job. Click here for more details >>>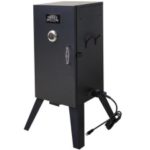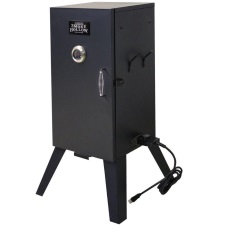 For those folks who are looking for a larger capacity electric smoker … we have to show you the Smoke Hollow 26″ electric smoker with adjustable temperature control model number 26142E which has a might powerful 1500 watt heating element to really take smoking meats to a new level. People we know who have this Smoke Hollow smoker say it is really a well made piece of equipment – they especially like the adjustable temperature control which is an added bonus as you can fine tune your smoking if you are looking to get to a certain temperature plus allow for more even heating. Other cool features of this smoker includes 2 chrome-plated cooking grids which are adjustable, a cool-to-touch spring door with latch, porcelain coated water pan and chip tray. Get the full skinny on this smoker by clicking here >>>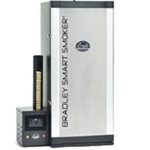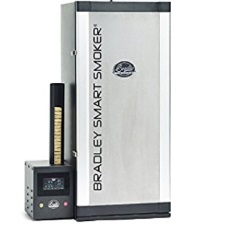 Here is another brand of great smokers I think you'll like; it is the Bradley Smoker model#BS916 Digital Bluetooth Compatible Smart Electric Smoker. Yes, that was definitely a long title for a smoker but deserves it well! This is one of their top smokers with a little hefty price tag too. It delivers the latest in digital Bluetooth technology which means you can not fully control and monitor your smoking from your phone. Is it perfect? Well not yet, some customers say it has a limited Bluetooth range. This unit has a cool touch screen control that lets you choose time, temperature, and the amount of smoke delivered to your food. If you are concerned about food temperature, this smoker has two color-coded integrated probes allowing you to track temperatures so you'll always know where you're at. If you plan to purchase this, make sure you have a buddy help you with lifting or transporting to to your home. It weighs about 72 lbs. You'll get 6 racks with this particular model however has room for a total of 10 racks. You can purchase the extra 4 racks online. Click here to read full review >>>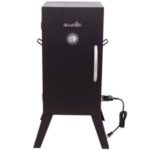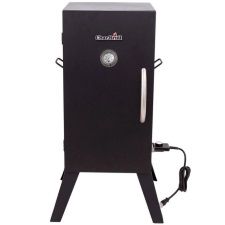 Char-Broil is one of our top choices (along with Weber) for grills and smokers … especially electric smokers. They have a good reputation for longevity and durability for the money. This particular model #14201677 is great unit if you're looking for something around $100 or so and want adequate smoking space. It is just under 38 inches tall, a vertical type smoker featuring a 1,500 watt variable temperature heating element for even and more accurate smoking. You'll also get 3 cast-iron cooking grates which can be adjusted in this 504 square inch smoking chamber. At time of writing, this smoker scored 4.1 stars out of 5, with the majority of votes going to 4 & 5 stars. To get more information on this Char-Broil Vertical Smoker and full review … click here >>>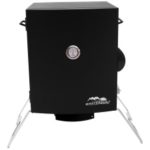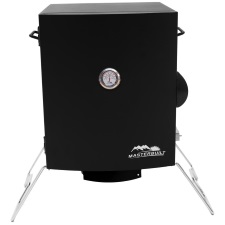 Sometimes you just want to pack up and go to a friends or a park and smoke, but moving the common smoker around is not fun and can be a real hassle. Fortunately there is a way – the Masterbuilt Portable Electric Smoker model #20073716 is the answer. Weighing in at about 21 lbs. this smoker can be toted around to most places providing there is an outlet available if you decide to take it to the beach, camping or the park. The legs of this unit will fold under during transportation and is pretty much lightweight for a smoker. Believe it or not, this unit has a 1,400 watt heating element! Yeah, that is some good power there, especially at this size. There are lots of goodies with this one. Reviewers at one popular website rate it at 4.3 stars out of 5.Read more about this Masterbuilt Portable Electric Smoker >>>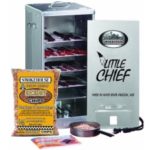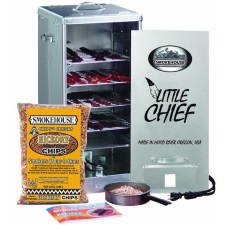 This little gem of a smoker is ideal for the beginner or novice smoker. It is the Little Chief Front-Load Smoker by Smokehouse Products and is Made in America for those who like to support our country … Go America! Folks like this front loading smoker for its size and convenience. It has a small footprint and can be portable too. Features consistent low temperature setting with a 250 watt heating element. For smokers that is not much power but for smoking jerky, fish, fruit and thin strips of meat, it will do. If you purchase this unit, you'll also get a recipe/instruction booklet and a 1.75 pound bag of fresh Chips n' Chucks wood fuel that has a nice touch of Hickory flavor and it's under $100 … can't beat that! Click here to read more about the Smokehouse Little Chief Front-Load Electric Smoker.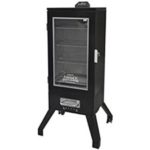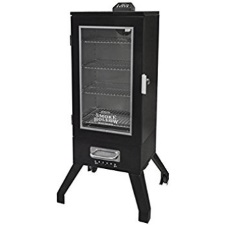 Here is one unit we couldn't leave out. It is the Smoke Hollow 36″ Digital Electric Smoker with Window. This is a great unit as it has proven to smoke food at even temperatures with its powerful 1,500 watt heating element. You'll have plenty of space smoking with its large 3.0 cubic ft. chamber One cool feature about this Smoke Hollow appliance is the new digital electronic controls with LED display showing you all you need to know including Temperature, Time and a Fast Smoke option. You can check up on your smoked goods by looking through the easy-to-clean viewing window. If the heating element malfunctions, it is replaceable. Click here to get the full review on this Smoke Hollow digital smoker.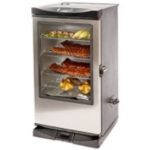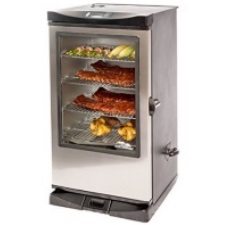 This Masterbuilt unit is probably one of the top-of-the-line smokers for its class. Standing over 40 inches high and 975 square inches of cooking space, you'll be able to smoke plenty of food to last a week or perhaps a large backyard party! This unit model #20075313 features a nice clear window for viewing, a front digital controller which is also controlled by RF for convenience, an integrated thermostat for consistent even heating and a sweet side loading system for adding chips. I have a buddy who owns this unit and he really like it. He can play with his kids of watch the game while checking status of his smoking with RF remote control. This smoker is one the best in my opinion, because the ease of which one can smoke. Just put in your meat, plug it in, set the controls to your liking and it goes to work. Click here to read more about this Masterbuilt Electric Smoker and see if it is your perfect match.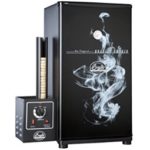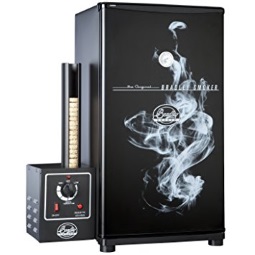 Last but certainly not least on this list of the best electric smokers is the Original Smoker by Bradley Smoker model BS611 and is one to take a good look at. This small footprint of a smoker is a unique meat smokehouse that utilizes a auto-feed mechanism and a smoke generator that allows even and consistent heating. The bisquettes are auto-fed into the smoker and burn for approximately 20 minutes each to help keep temperature steady which helps eliminate high temperature gases, acids and resins which can mess with the flavor of the smoked food. The unit can also be used as a slow cooker or a slow roasting oven for additional smoking/cooking options. You'll get 4 removable and adjustable racks, user guide, tray and drip bowl. The bisquettes are sold separately. Click here to get the full review on this Bradley original smoker.