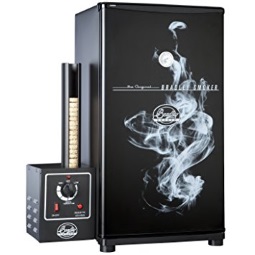 This is the Bradley Smoker BS611 Original smoker, the small footprint electric smoker that is just right for apartment and condo dwellers because it is fully-insulated, so the outside remains warm to the touch but doesn't take up a lot of room on the patio or balcony and at only 54 pounds, you and a friend can easily move it from the patio to the backyard when the weather is nice. With the automatic smoke generator, you won't need to open the door to add wood bisquettes and the neighbors won't complain about the smoke.
You're in control with the easy to use temperature controls, this Bradley original is almost "set it and forget it" easy to use. You can even hook up a remote internal meat temperature. With a few adjustments to the racks, you can smoke a 15 or 16-pound turkey or roast. Whether you are smoking a Boston Butt, Brisket, a rack of ribs, or need to spread out a bunch of jerky, fish fillets, or sausage you have everything under your control and the credit for that smoky goodness will be all yours!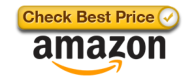 Fully-Insulated Interior of Stainless-Steel
This Bradley Smoker is the Original and fully-insulated so it stays just warm to the touch so that you won't have to worry when the children go around the smoker out on the patio in the backyard. You can smoke those great smoke-infused meals of fish, fowl, pork, or beef on cold days or hot. The interior will maintain the temperature you set for your desired smoking temperatures. What's more, the stainless-steel interior makes clean-up quick and easy, so you'll have more time to enjoy the meals you prepare. Many of those that bought this original smoker still use it even though they have bought the new smart smoker because it is really great for beginners.
Automatic Smoke Generator
The Bradley Smoker Original smoker has a very simple to use automatic smoke generator that allows the user to just put the bisquettes in place and let it work, you won't need to continually tend to the smoker, do temperature checks, or replace wood. The automatic advancement technology will feed a new bisquette into the burner after twenty minutes, which allows for perfect smoke usage for the prescribed period of time without interference or user intervention. This process gives you a pure smoked flavor every time. Your recipes will have the right amount of smoke so the taste is consistent, over and over again. Load eight hours of bisquettes and go do whatever else you have to do.
Features and Specifications
975 Square Inches of Cooking Space
4 Removable Racks, Included
Simple Temperature Controls
33.5 x 17.5 x 20.25 Inches
Stainless Steel Interior
1-Year Warranty
Automatic Smoke Generator
Pros
Solid stainless-steel construction with thick fully-insulated walls
Easy to use temperature control (low, medium, or high)
Two burners give you many options of smoke and heat
Automatic smoke generator is very convenient
Large 520 square inch smoking surface
Easy setup & cleanup
Cons
Twenty minutes is not enough time to completely use a bisquette and they are not cheap
Needs a waterproof cover to protect the bisquettes
Customer Reviews and Scores
This Bradley Smoker Original smoker with two separate burners will give you many options. One burner is just for the smoke generator and the other is a heating element for the oven. So, you can have just smoke, just heat, or smoke and heat. You're in control of settings, so you can smoke a turkey for a few hours and then change over to just heat, or vice versa. Whether you want fully-smoked goodness for your beef jerky or a milder smoke flavor for your smoked salmon, trout, or other fish fillet is something you will want to experiment with and you'll have tons of options. You are only limited by your imagination with the Bradley Original smoker.
We found over 953 verified Amazon purchasers who reviewed this Bradley Original Smoker. They gave it an average rating of 4.4 stars out 5 stars average. About 78 percent rated the Bradley Original Smoker either 4 or 5 stars. Ratings from another online retailer were higher – customers who bought this Bradley Smoker rated it at 4.6 out of 5 stars and 94% of them gave it a 4 or 5 -star rating.
Here are a few comments left on Amazon by verified Amazon purchasers, "I've had my smoker for 10 years and it still works great." … "Works great with a little experience under your belt." … "Great Smoker, fun and relatively easy." and, "…very happy to have made this switch to a Bradley Smoker."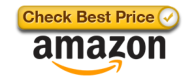 Conclusion
In summary, this Bradley Original electric smoker is fully-insulated and sturdy. If you're a jerky lover like me, you will love being able to fill all four racks, 520 square inches. I have also filled it with salmon and loved the great smoked taste. Whatever your favorite recipe is, you will get years of smoking fun out of this Original Smoker.