Pit Boss is a popular brand of outdoor grills and smokers. They offer a wide variety of grill models, including wood pellet grills, gas grills, and charcoal grills, vertical water smokers offset smokers and cabinet smokers. Pit Boss is known for producing high-quality grills at an affordable price point, with features such as large cooking surfaces, easy temperature control, and durable construction. Pit Boss grills and smokers are widely available for purchase online and at various retail locations.
Pit Boss creates these grills/smokers that will absolutely cater to different cooking styles, budgets, and preferences. Whether you're a beginner or an experienced pit master, Pit Boss has something to offer. One of the standout features of Pit Boss grills is their affordability. Despite being priced lower than many of their competitors, Pit Boss grills are built to last. They are constructed with high-quality materials, and feature durable components such as heavy-duty cooking grates, sturdy lids, and solid stands.

Pit Boss Pellet Grills
Some of their most popular models include the Pit Boss Series Grills which include the 482 sq. inch, 700 sq. inch, and the 743 sq. inch pellet grills. These are the 400/700FB1 series Pellet Grills – which they say "anyone can become an instant grill master"…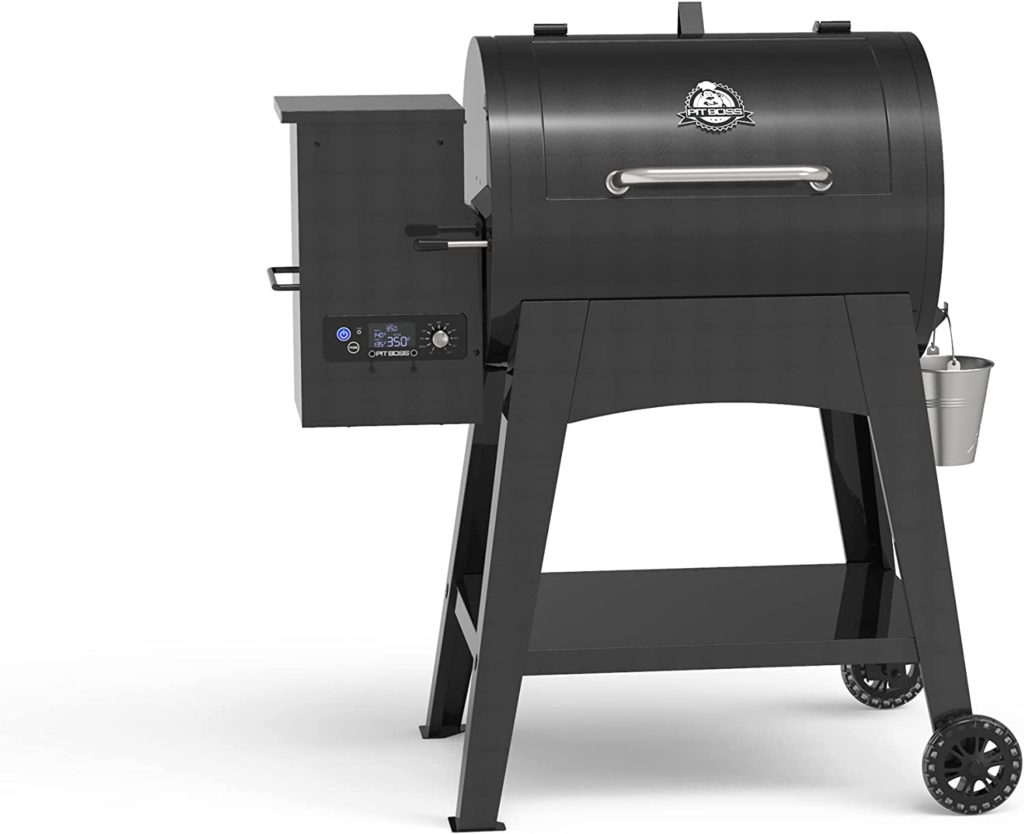 Here are some key features to these Pellet Grills:
482, 700 and 743 Square inches of cooking space
Dial-in digital control with LCD screen
180-500 Degree temperature range with direct flame searing up to 1000 degrees
Porcelain coated steel cooking grids
5 – 21 Pound hopper with clean-out
High temperature matte black powder coat finish
Solid bottom shelf
Automatic start and cool down
Fueled by 100% all natural hardwood pellets
These Pit Boss Series Pellet Grills and available with many accessories. Click on links for more details.
Another popular Pellet Grill by Pit Boss that many folks really like is the PIT BOSS 820D3 820 sq. inch Wood Pellet Grill in a bold Mahogany finish (Model PB820D3)… ideal for large outdoor parties.
The Pit Boss PB820D3 wood pellet grill allows you to create robust hardwood flavor. With 100% all-natural hardwood pellets, it serves as an all-in-one grilling machine that can be used to smoke, bake, roast, sear, braise, barbecue, and char-grill.
This sturdy grill has the capability of reaching low and slow temperatures of 180°F or hot and fast heat up to 500°F. The easy-access flame broiler lever allows you to cook with indirect heat and the slide-plate flame broiler opens up for direct-flame searing at 1000°F.
The PB820D3 offers 849 square inches of cooking space and features a stainless-steel removable side shelf with BBQ tool hooks, temperature regulating smokestack, solid bottom shelf, and an attractive mahogany finish.
Here are some details about this Pellet Grill:
8-in-1 Versatility – Using 100% all-natural hardwood pellets, you can grill, smoke, bake, roast, sear, braise, barbecue, and char-grill any meats or veggies with one easy-to-use machine
Direct and Indirect Heat – This heavy-duty grill can reach low and slow temperatures of 180°F or hot and fast heat up to 500°F. With the easy-access flame broiler lever, you can cook with indirect heat. Then quickly open the slide-plate flame broiler for 1000°F direct-flame searing
Perfect for Families and Parties – The PB820D3 Pellet Grill boasts 849 square inches of cooking area for all your cooking needs. Combining this with fast heating up to 500°F allows for cooking of larger quantities of food more efficiently
Stylish Finish – The bold mahogany finish will stand out proudly when compared to run of the mill grills
Easy Maintenance – Porcelain-coated cooking grates and a simple to use grease management system make cleanup a breeze
Dimensions (LxWxH): 24.4 Inches H x 45.7 Inches W x 21.7 Inches D
Care instructions: hand wash
---
Pit Boss grills are also known for their large cooking surfaces, which provide ample space for cooking for a group of people. For example, the Pit Boss Austin XL has a total cooking area of 1000 square inches, making it one of the largest pellet grills on the market. Whether you're smoking a brisket or grilling burgers and hot dogs or throwing the largest outdoor BBQ Party … you'll have plenty of room to work with.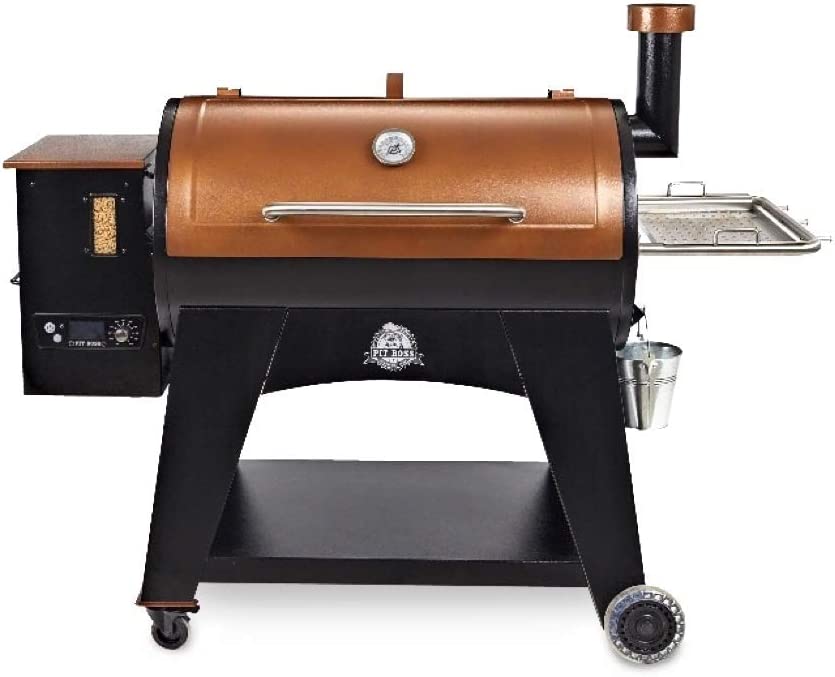 Here are some details about the Pit Boss Austin XL Pellet Grill with Flame Broiler & Cooking Probe:
Four rolling casters
Temperature range 150 – 500 F
Over 1000 sq in porcelain coated cooking surface
Innovative flame broiler for direct flame grilling
Digitally control board with LED read out with meat probe
Power Source: wood pellet
Color: Black/Bronze
Outer Material: Steel
Item Weight: 181 Lbs.
Dimensions LxWxH: 62 x 25 x 28 inches
The Austin XL has two levels of porcelain-coated grid construction, giving a total of 1000 square inches of cooking space. The LED control allows you to easily start and stop the Pit Boss. The Austin XL also features a copper-finish on the lid and a detachable stainless-steel shelf. It runs on 100% natural hardwood pellets and has fan-forced convection cooking that can reach 500°F. You can choose to set it and forget it or direct-grill over an open flame using the standard slide-plate flame broiler. Pit Boss is versatile, allowing you to bake, roast, grill or smoke, making it a versatile 8-in-1 grill. Made with durable steel construction, it is built to last and provides real wood-fired flavor. The control board has an LED display and a meat probe, and the 31 lb hopper has a purge system. The grill also has four casters and a stainless steel side table with a removable tray. The temperature range is between 150°F to 500°F. If you are looking for a well-built, solid pellet grill designed for a large gathering … then look into the Pit Boss Austin XL for your next bit-time Pellet Grill.
One of the biggest draws of Pit Boss grills is the ability to easily control the temperature. All of their grills come with a digital control panel that allows you to set and maintain the temperature with precision. This makes it easy to cook low-and-slow for hours on end, or to crank up the heat for a quick sear.
In addition to their popular pellet grills, Pit Boss also offers gas and charcoal grills. For example, the Pit Boss Sportsman is a charcoal grill that provides an authentic smoky flavor. The kettle design and adjustable cooking grate allow for versatile cooking options, and the ash catcher makes cleanup a breeze.
Pit Boss grills are not just functional, they're also stylish. The sleek design and sleek black finish of most Pit Boss grills are sure to complement any outdoor patio or deck. Additionally, many models feature built-in shelves and side tables, providing additional workspace and storage.
Pit Boss Vertical Smokers
Pit Boss is also well-known for their high-quality outdoor smokers. Pit Boss smokers are designed for the serious pit master who wants to achieve the best possible flavor for their meats and other smoked foods. They offer a range of smokers, including vertical water smokers, offset smokers, and cabinet smokers.
One example of a high-quality Smoker and also an Amazon's Choice would be the Pit Boss 77220 2.2 Analog Smoker in blue. This top notch smoker is rated favorably among Amazon customers and BBQ'ers nationwide.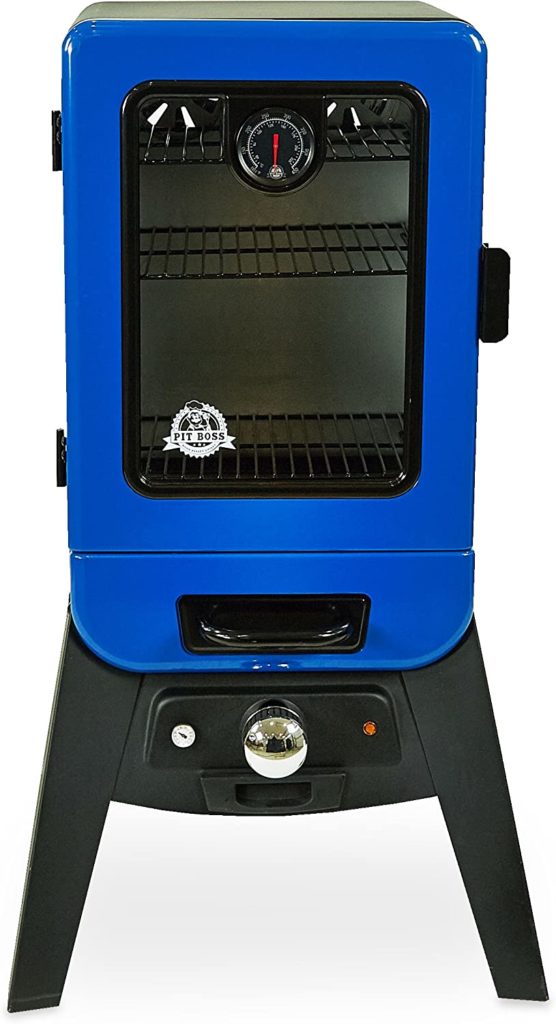 Pit Boss Grills has created a top-of-the-line smoker that surpasses its competitors. The Pit Boss Analog Electric Smoker boasts double-walled insulation and 1650 watts of power, allowing you to reach cooking temperatures ranging from 100°F to 325°F. With intuitive built-in controls, getting your smoker up and running is a breeze. The oversized front-loading wood chip tray offers extended cooking time of up to two hours per load, making it simple to infuse your food with delicious smoky flavors.
More about this Smoker:
Integrated analog controls – no more plugging and unplugging components
Three porcelain coated cooking grids, 593 sq in. Includes porcelain coated water and wood pan
Analog meat probe included
Complete control of smoker from 150F – 325F.
External access to wood pan
Model: 2.2 Analog Smoker
Power Source: Wood
Color: Blue
Weight: 58 Lbs.
Dimensions (LxWxH): 21 x 23 x 41 inches
Inner Material: Stainless Steel
Fuel Type: Pellet
---
Another favorite is the Pit Boss 77435 Vertical Liquid Propane Gas Smoker in the Red color. Introducing the Pit Boss Red Rock Gas Smoker Series, the new leader in town. The Pit Boss Red Rock Gas Smoker allows you to reach temperatures ranging from 100°F to 350°F. The smoker's large front window eliminates the need to constantly check on your food, while its elevated frame makes it easy to transfer your cooked meal to the table.
Here are more details:
Dual valve/dual burner system provides 100-350 temperature range
Three porcelain coated cooking grids, 800 sq in
Stainless Steel burners – 12, 500 BTU total
External access to wood chip drawer and grease tray
Large viewing window with high temperature door seal
Cooking Racks: 3
Model: 77435
Color: Red
Outer Material: Stainless Steel
Weight: 52 Lbs.
Dimensions (LxWxH): 21 x 23 x 47
Inner Material: Stainless Steel
Fuel Type: Liquid Propane (LP)
---
What about a larger Pellet Smoker with 6 porcelain cooking grids boasting over 1800 sq. inches of cooking space? Would that work for a large party? Well, check out the smoking-hot Pit Boss 77700 7.0 Series Pellet Smoker XL in Copper.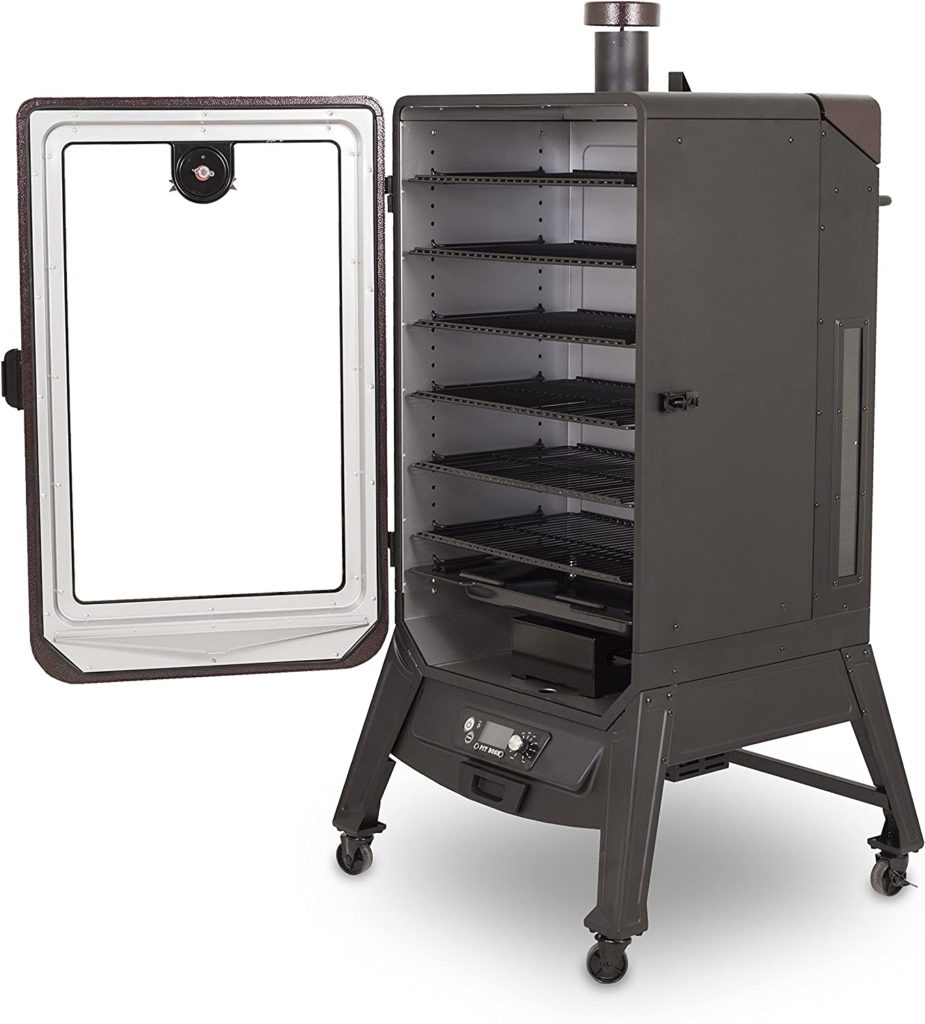 The Pit Boss Vertical Smoker offers ample cooking space and extended smoking times. It features porcelain-coated cooking racks that ensure even heat distribution. With a temperature capability of up to 450°F, these wood pellet smokers provide more outdoor cooking options than any other product on the market. The large hoppers, capable of holding 40 lbs of pellets, allow you to host the perfect BBQ for your loved ones.
More details about this Pit Boss 7 Series Pellet Smoker:
Monitor internal temperatures with digital LED readout and meat probe
Six porcelain coated cooking grids, 1815 sq in. Includes porcelain coated water pan and heat Deflector
40 plus lb hopper capacity with pellet Purge. 24 plus hours of use
Fully programmable 150 – 450 temperature range
Auto-start 300 watt igniter with auto shut-off
Care instructions: hand wash
Power Source: AC/DC
Color: Copper
Weight: 142 Lbs.
Dimensions (LxWxH): 28 x 29 x 58 inches
---
In conclusion, Pit Boss is a brand that offers high-quality grills and smokers at an affordable price. Their large cooking surfaces, precise temperature control, and stylish design make them a great option for any grilling enthusiast. Whether you prefer wood pellets, gas, or charcoal, Pit Boss has a grill or smoker that will meet your needs and exceed your expectations. So if you're in the market for a new grill, be sure to check out what Pit Boss has to offer.