Welcome to GrillBuff.com … the internet's guide to the most comprehensive grill and smoker reviews. We provide comprehensive, impartial evaluations of over 100 smokers and grills. Our reviews include product ratings, pros and cons, customer feedback, our final verdict, and additional useful information. To find the best smokers or grills that fit your budget, you don't have to waste time scouring the internet or visiting multiple stores and getting ignored by salespeople. You've found the one-stop-shop for the most popular, highly-rated smokers and grills of 2023.
---
UPDATE!

Since COVID has interrupted many domestic and foreign manufacturers – there are many products that we like and recommended but now are currently UNAVAILABLE for purchase. So, we created an AMAZON Storefront that now provides FAST & EASY access to the most current Top-Rated Grills and Smokers in a NEW Quick-View layout called "IDEA LISTS" … for our GrillBuff Fans!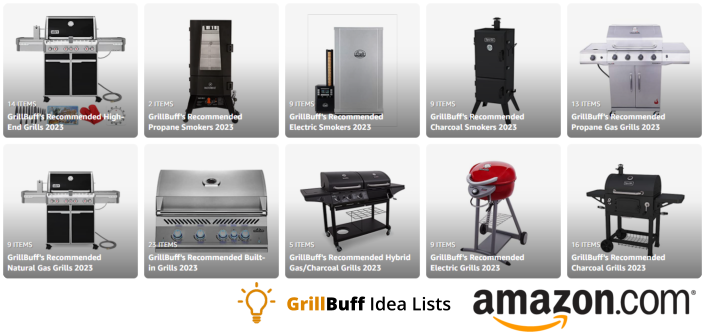 Top-Rated Charcoal Grills
Top-Rated Electric Grills
Top-Rated Natural Gas Grills
Top-Rated Propane Gas Grills
Top-Rated Charcoal Smokers
Top-Rated Electric Smokers
Top-Rated Propane Smokers
Top-Rated Hybrid Gas/Charcoal Grills
Top-Rated High-End Grills
Top-Rated Built-in Grills
---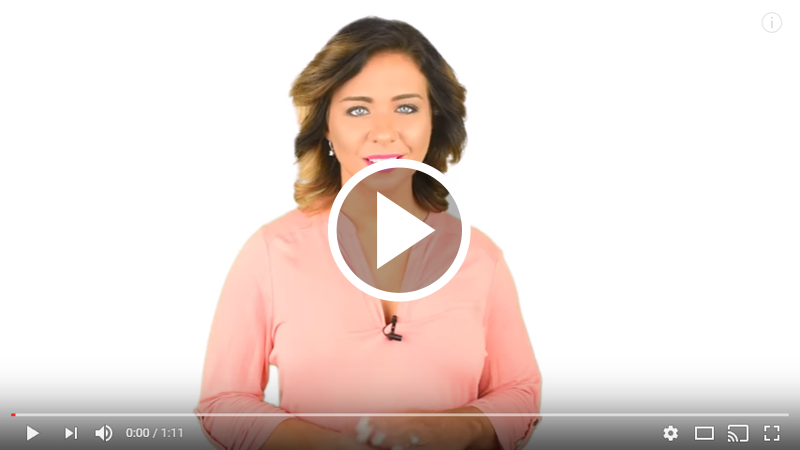 How to Use This Site for Finding Your Ideal Grill
We have done our best to ensure you can choose your grill or smoker wisely. To avoid the frustration of buying a natural gas grill only to find out that your home doesn't have natural gas, we have organized our pages clearly for your convenience. If you want to buy your grandfather a propane grill under $300 with "great" reviews for his birthday, you can easily find the right one. Simply go to the top of the page, hover over "Grills," and select "Best Propane Gas Grills > Under $300." On that page, you'll find our top recommendations for grills in that category, along with a comparison table. Each grill comes with a detailed review that includes benefits, features, ratings, pros and cons, specifications, photos, and a link to purchase if you wish. To learn how and what to look for in a grill or smoker please take a look at our 2023 Grill & Smoker Buyers Guide so you can find what you need.
Top Grills & Smokers Comparison Table
Below you'll find the "Top Rated" grills & smokers in no particular order.
TIP: Click on Brand to get more information.
Brand
Type
Features
Warranty
Rating
Price
Char-Broil Performance 475

LP
36K BTUs, 476 Sq. in. cooking area, Stainless Steel, 4 Burner, Cart-style, Side Burner
5/5/1 Year
4.1/5
$$

Check Price

Blackstone
1554 FlatTop

LP
60K BTUs Total, 720 Sq. in., 4 Burner, Flat-top Grill/Griddle, Optional Cover + Kit
90 Day
4.6/5
$$$

Check Price

Weber 741001 Original
Char
Kettle-style 22-inch, 363 Sq. in., Rust-resistant vents
10 Year
4.8/5
$

Check Price

Smoke Hollow 205
LP
10K BTUs, "U" Burner, Portable, Stainless Steel, 305 Sq. in., Warming rack, Camping/Tailgate/Picnic
1 Year
4.1/5
$

Check Price

George Foreman GGR50B
Elec
Indoor/Outdoor, 240 Sq. in., Adjustable heat range, Removable grill plate for EZ clean up, Use stand or tabletop, High dome lid, Grease collector
1 Year
4.5/5
$

Check Price

Blackstone 1650
LP
12K BTUs, Portable, Grill/Griddle, 260 Sq. in., Griddle kit / Cover
1 Year
4.7/5
$

Check Price

Char-Griller 22424
Char
Table Top, Portable, Side fire box (optional), 250 Sq. in., Stay-Cool hood handle
5/1/1 Year
4.3/5
$

Check Price

Weber Spirit E310
LP
32K BTUs, 424 Sq. in., 3 Burner, Porcelain-enameled grates & Flavorizer bars, FREE assembly
10/5/2 Year
4.5/5
$$$$$

Check Price

George Foreman GRP4842MB
Elec
Multi-Plate, Portable, Waffle plates, Ceramic plates, 3-in-1, 500 Searing Burst
3 Year
4.1/5
$

Check Price

Weber Premium
Char
"Original" Premium, 22-inch, 363 Sq. in., Plated steel grate, Cover & Grill Set optional
10/5/2 Year
4.7/5
$$

Check Price

Char-Broil TRU 500
LP
27K BTUs + 10K BTU side burner, TRU Infrared (even heating), 3 Burner, 500 Sq. in. + 180 Sq. in. warmer
5/2/1 Year
4.0/5
$$$

Check Price

Pit Boss 71700FB
Pell
700 Sq. in., Porcelain coated cast iron grids, Digital control burn system
1 Year
4.3/5
$$$$$

Check Price

Char-Griller 3001
LP
40.1K BTUs + 12K BTU side burner, 3 Burner, 438 Sq. in. + 192 Sq. in. warmer, Porcelain-coated cast iron grates, Electronic ignition
5 Year
4.2/5
$$

Check Price

Weber Q2400
Elec
Portable, 1560-watts, 280 Sq. in., Porcelain-coated cast iron grates, Fully assembled
10/5/2 Year
4.5/5
$$$

Check Price

Char-Broil Gas2Coal
Hybrid
40K BTUs + 12K BTU side burner, Combo gas/charcoal, 3 Burner, 420 Sq. in. + 120 Sq. in. warmer
5/2/1 Year
4.3/5
$$$

Check Price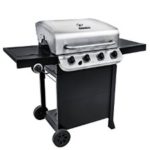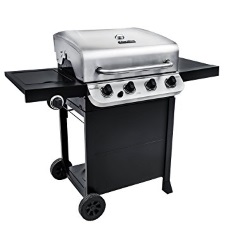 This small-footed LP gas grill boasts a stylish black and stainless steel design. It is equipped with 4 stainless steel burners that provide even cooking, and you can start grilling in just 5 minutes with a single push of the electronic igniter. Additionally, this grill features a swing-away warming rack, a side burner, a grease tray, porcelain coated grates, and more. This is great grill and could be in your backyard soon! Click here to get an in-depth review and price on this grill >>>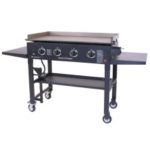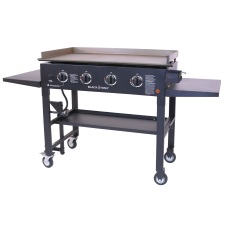 Looking for a top-rated griddle-style grill? Look no further! The Blackstone griddle is the #1 Best Seller on Amazon and is perfect for those who want a professional-style griddle. This flat top griddle features 4 stainless steel burners, easy electronic ignition, 60,000 BTUs, 4-zone heating control, and foldable legs. We highly recommend this griddle and had to include it on our list! To get more details and current price on this griddle/grill … click here >>>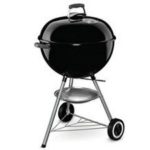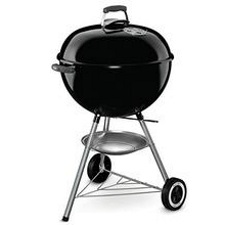 For BBQ enthusiasts who prefer a classic grilling experience, we present the Weber Original Kettle-Style 22 inch charcoal grill (model 741001). This type of grill takes us back to a time when outdoor cooking was a simpler affair. In fact, it's possible that this classic design was one of the first outdoor grills in existence. Currently, this original model is the #1 Best Seller on Amazon for Charcoal Grills, with a 4.7-star rating and 81% of reviews rated at 5 stars. Want to know more about this legendary grill … click here >>>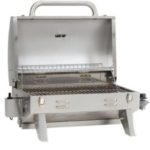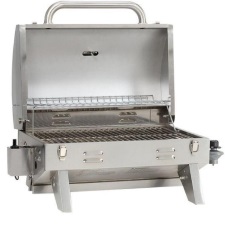 If you're looking for a grill to take on your camping trips, tailgates, or picnics, consider a portable stainless steel propane grill. It quickly generates about 12,000 BTUs from a U-shaped burner, and has a warming rack. Customers appreciate its compact design, with legs that fold and a locking lid, making it easy to carry. Plus, it's budget-friendly. Check out our full review to see if it's the right grill for you. Click here to read more >>>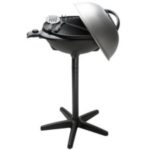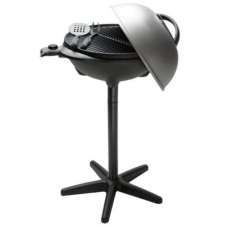 Calling all George Foreman enthusiasts! We've got an electric grill that might just be what you're looking for. This portable electric grill is a real showstopper, capable of grilling around 15 burgers at once on its large 240 square-inch circular cooking surface. It's great for outdoor activities like tailgating or picnics and comes with a sturdy pedestal for easy grilling or can be placed on a tabletop. And the best part? You can even grill indoors since it's electric. Grill up a fantastic meal with the George Foreman GGR50B electric grill. Check it out … click here to see full review >>>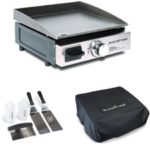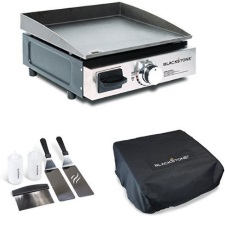 Get ready to impress with Blackstone's top-selling portable griddle/grill. This table-top model boasts 260 square inches of heavy-duty cooking surface and an evenly distributed 12,000 BTU heat output, making it ideal for outdoor activities like camping, hunting, road trips, and tailgating. Fueled by a 1-pound propane bottle, it has received high praise from users with a rating of 4.7 out of 5. The package includes a griddle kit and a carry bag/cover. For updated pricing, free shipping and a full detailed review … click here >>>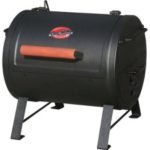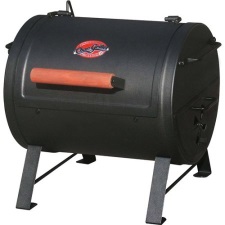 Char-Griller has created a versatile Table-Top charcoal grill that can also serve as a Side Firebox when paired with a larger Char-Griller brand barrel grill. Made of durable steel, this grill provides 250 square inches of cooking surface with cast iron grates. A convenient ash pan allows for effortless coal cleaning after use. With positive reviews and the option to use it as a horizontal Texas style smoker by attaching it to another grill, this product is a hit with BBQ enthusiasts. Click here to read full review >>>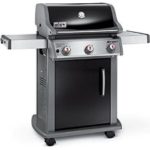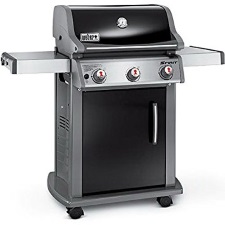 We introduce to you the Weber Spirit E310 Liquid Propane gas grill. It is listed as Amazon's top seller for Propane Grills and has received great reviews, with 88% of nearly 1700 reviewers giving it a 4 or 5-star rating. This grill is equipped with three stainless steel burners, emitting a total of 32,000 BTUs of heat. It offers ample cooking space with 424 square inches and an additional 105 square inches for warming. As of the time of writing, this grill is available with a free expert assembly. Check out our full review to learn more by clicking here >>>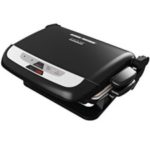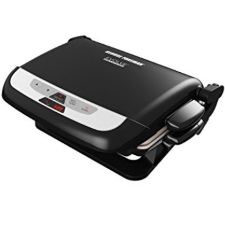 We're fans of George Foreman products and wanted to review the George Foreman (GRP4842MB) Multi-plate Evolve Grill. It's a versatile appliance for home use, ideal for making paninis, waffles, and grilling meats and vegetables. With its 3-in-1 capability, you can switch plates to go from grilling to creating delicious paninis or sandwiches. This grill has received high praise for its waffle-making capabilities. To find out more … click here >>>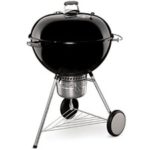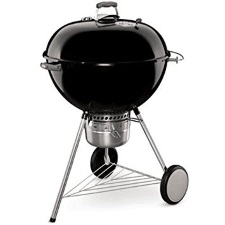 This Weber Premium charcoal grill is a slightly upgraded version of a similar, less expensive model. It is slightly larger in length and width, weighs about 1.5 pounds more, and includes an aluminized steel One-Touch cleaning system with a removable, high-capacity aluminum ash catcher. The Premium Weber grill comes in Black, Green, and Copper and is available with optional accessories such as a Cover, Grilling Set, or Thermometer. My favorite color is the Copper – it just looks boss in the backyard! Read more about this high-quality Premium grill by clicking here >>>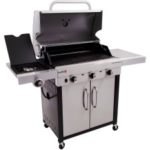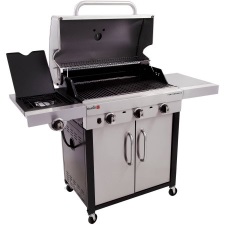 Char-Broil offers a Liquid Propane grill that boasts a large cooking area and a durable design, the Performance TRU Infrared 500 LP Cabinet grill. With a cooking area of about 500 square inches and porcelain-coated grates, this grill also features a 10,000 BTU side burner for extra cooking options. The reliable Surefire Electronic ignition is a plus. The grill is available in a 2-burner version, with options for a cover and cart-style design at a lower cost. Click here to read detailed review >>>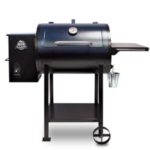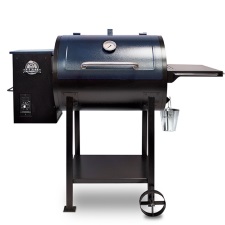 We are fans of the Pit Boss brand of pellet smokers and in particular, this model is highly rated for its consistent heat distribution, large cooking area, and digital control center. According to Amazon, this pellet grill is the "#1 Best Seller" among Combination Grill-Smokers at the time of writing. It offers approximately 700 square inches of cast-iron cooking and smoking surface and is ideal for a group of 4 to 7 people, depending on their appetite. The digital control board allows the cook to choose their preferred cooking method and there is no need for LP gas or charcoal as wood pellets are the perfect fuel for this Pit Boss Grill. Get more details about this top rated smoker/grill by clicking here >>>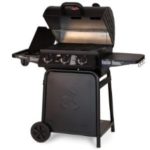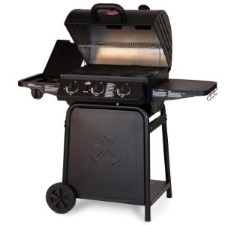 We are pleased to present the Char-Griller 3001 Liquid Propane gas grill. This grill is known for its impressive power and portability, with three burners producing a total of 40,800 BTUs and a side burner outputting 12,000 BTUs. With 438 square inches of main cooking surface and 192 square inches of warming rack, this grill is designed for convenience and durability. Made of heavy-duty steel and powder-coated, it is built to last and provide years of grilling enjoyment. To see the latest price and the full review on the Char-Griller 3001 … please click here >>>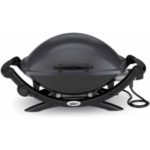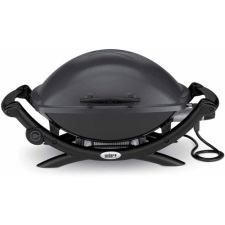 The Weber Q 2400 Portable Electric Grill is a great option for those who want a portable and powerful electric grill. This grill has a 1560-watt heating element, making it ideal for indoor or outdoor grilling. With a 92% 4 to 5-star rating from reviewers, this grill is highly rated and considered one of Weber's top products. As of the time of this review, Amazon customers can take advantage of a discount and free shipping on this grill. The reviewer's wife particularly enjoys using this grill to cook chicken kabobs and vegetables. For current discount, price and review … click here >>>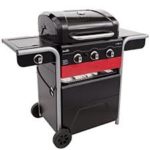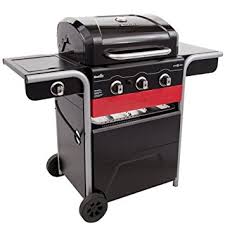 Char-Broil offers a popular and versatile grill that combines both charcoal and propane cooking methods. This hybrid grill is a top seller and boasts 40,000 BTUs from its three burners, with 420 square inches of cooking surface and a weight of 115 pounds. It provides the best of both worlds, allowing for slow cooking with charcoal or quick cooking with propane. Click here for more details >>>