If you are one the folks who decided to choose a smoker for your weekend or holiday enjoyment and wish to slow-cook your meats, veggies and other foods using propane then this page will be of benefit to you, especially if your looking for the best propane smokers money can buy for 2023 and of course that is within your budget. They are definitely the choice for many people who prefer that Smokey flavor and pork that seems to just pull-apart with perfection. There are few choices of power sources one can choose to heat up the smoker; such as charcoal, propane or electricity. They all have their pros and cons, but for this page we will list and discuss the top-rated propane (LP) gas smokers that you'll be pleased with. Take a look below and find one that suits you.
UPDATE! Since COVID has interrupted many domestic and foreign manufacturers – there are many products that we like and recommended but now are currently UNAVAILABLE for purchase. So, we created an AMAZON Storefront that now provides easy access to top-rated Grills and Smokers in an easy to read list. These are our IDEA LISTS. Please click link to visit our Recommended Propane Smokers.

Top Propane Gas Smokers Comparison Table
Brand
Type
Features
Warranty
Rating
Price
Smoke Hollow 38202G 38″

LP
20K BTUs, 3.4 Cubic ft, push button ignition, 38″ high
1 Year
4.4/5
$$

Check Price

Masterbuilt 20051316 X-Large

LP
15.7K BTUs, Piezo ignition, 965 Sq. in cooking space, viewing window
90 Day
3.4/5
$$$

Check Price

Cuisinart COS-244 36″
LP
12K BTUs, 36″ high, 784 Sq. in cooking space, Temp and smoke control
3 Year
4.2/5
$$

Check Price

Smoke Hollow PS40B
LP
13.5K BTUs, 3.4 Cubic ft, 2-door, 38″ high, chrome plated cooking grids
1 Year
3.9/5
$$$

Check Price

Smoke Hollow 44″
44241GW
LP
2-12K BTUs, SS burners, 6.5 Cubic ft, 7 cooking grids, Dual door design, Temp gauge, push button ignition, viewing window
1 Year
4.0/5
$$$$

Check Price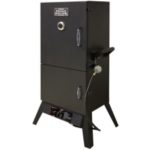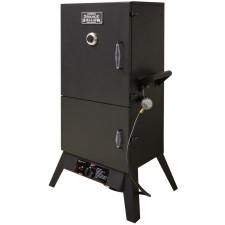 I've heard good things about this 38″ propane gas smoker by Smoke Hollow. It is one of the larger smokers commonly used coming in at about 3.4 cubic feet of cooking space and stands up vertically roughly 33 inches high. The LP output is 20,000 BTU's with this model, also has 4 chrome-plated cooking grids with adjustable levels for different size meats and such. There is also a sausage hanger included with is cool for those chefs who like to smoke a good sausage. The Push-button ignition works fine and is helpful. Ratings for this model are pretty good – lot of satisfied customers. Click here for more details >>>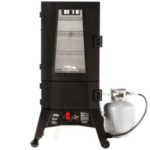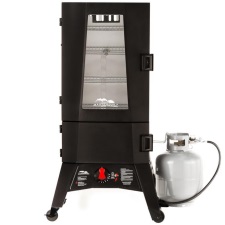 Here is the Masterbuilt Thermotemp Propane Smoker model 20051316 that you might like. This unit has an output of 15,750 BUT's with the Piezo ignition, 4 cooking racks and their patent pending innovation called Thermotemp which allows you to set it and forget it. Don't think you want to forget it that much – we recommend checking up on your smoke grub often to make sure all is well with the color and temperature. You can adjust the cooking temperature as it is in use and does hold the temperature + or – 10 degrees as some claim. Wood chips can be used too for extra flavor but be careful when using wood pellets as those can burn off quickly. Get the full review by clicking here >>>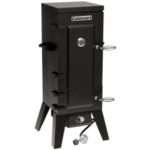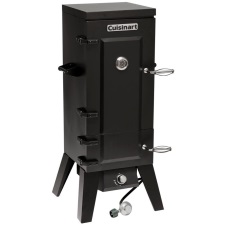 For those who are big Cuisinart fans we introduce to you the Cuisinart COS-244 36″ propane gas smoker. This nice unit has great reviews and is a really a nice smoker and priced right for its size and smoking capacity. It is 36″ high with roughly 5.45 square feet of interior cooking space with a total output of 12,000 BTU's. This unit includes 4 14″ x 14″ stainless steel shelves, a combo water/wood chip tray, a 40″ regulator hose and also gives you a little more control of heat & smoke with a rear vent and adjustalbe gas supply. Some claim to have the temperature as low as 125 degrees and as high as 300. To get more information on this smoker click here >>>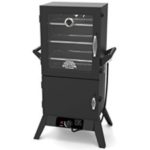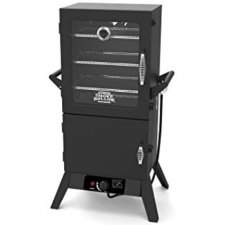 Another favorite of ours is this smoker unit – the Smoke Hollow 38″ propane as smoker. The Smoke Hollow smoker has an output of 15,400 BTU's which is good for the size however there are other units that output slightly more BTU's per hour. There is enough space though with a 3.4 cubic foot interior cooking capacity and 4 chrome-plated cooking racks with adjustable heights to accommodate large and small meats. You can use a 20 pound LP tank which should give you about 50 hours of use per fill. Some reviewers say you can convert this to use a Natural Gas line instead of a tank but does require a NG conversion kit. Reviewers at one popular website rate it at 4.4 stars out of 5. Click here to read more …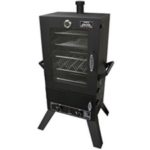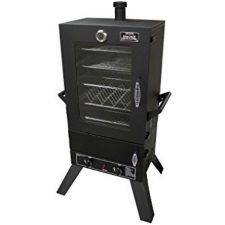 This Smoke Hollow smoker model 44241GW is for those who like to smoke lots and lots of meat, fruit or whatever floats your boat! It is similar to the model above however is quite a bit larger boasting about 6.5 cubic feet of smoking space – easily enough for a large cookout or family gathering. You'll get 7 cooking grids; 4 for regular smoking, 2 for smoking Jerky, 1 Rib rack and 1 Sausage hanger. This unit also has a Tempered glass viewing window so you can keep an eye on those smoked goodies, a large porcelain coated water pan, 2 porcelain wood chip pans and a temperature gauge. What about output? This unit has two (2) 12,000 BTU stainless steel burners which you can run independently for optimum temperature control and performance. Click here to read more about this Smoke Hollow appliance and see if it's a fit for you.