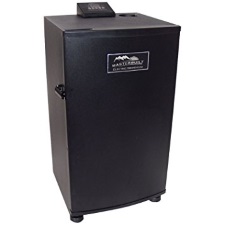 The Masterbuilt 30" Black Electric Digital Smoker model 20070910 is simple to operate with an intuitive push-button control panel and digital display. You can spend the day with your neighbors and this smoker in the backyard exchanging fishing stories or smoky good recipes for salmon, beef, chicken, or turkey or set it and forget it. You can smoke your recipes all day with cooking temperatures from 100 to 275°F, which is perfect for making any kind of jerky, and who doesn't like jerky. That's right, whether it's turkey jerky, salmon jerky, teriyaki or traditional beef jerky, your neighbors will be leaning over the fence waiting for the finished product. Holiday meals will no longer depend on the oven when you can smoke a turkey, Boston Butt, brisket, or ham shoulder. Looking for a smaller, portable Masterbuilt Smoker? Take a cruise over to this page … and look at the Masterbuilt 20073716 Portable Electric Smoker which folks claim to take with them when going camping or to a friends house.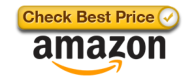 Slow Cooking & Spacious Interior
From the push-button start to easy cleanup, you can enjoy the slow-cooking goodness that's almost too easy. With 4 smoking racks providing 730 square inches of cooking surface that are temperature controlled, you will have plenty of space for that ham shoulder, full sized turkey, or strips of jerky. You can set the timer all the way out to 24 hours and with the automatic shut-off, go fishing and forget it because it will never overcook or undercook your meat. You're in complete control even when you're not there. This electric digital smoker is perfect for preparing for holiday parties and family reunions.
Spice it Up with Side-Loading Chips and Sauce/Juice Pan
You'll never have to worry about smoked filled eyes or lost flavor again because you can add wood chips to the side loader and keep all the smoky-flavored goodness inside. You can even add vinegar, apple juice, BBQ flavors, or your favorite beverage to the juice pan and spice up the flavor of your meat. Plus, the removable drip pan will catch all the drippings for that special sauce or gravy recipe and makes cleanup a lot easier, too.
Features and Specifications
730 Square Inches of Smoking Space
800-Watt Heating Element
4 Chrome-Coated Racks
Thermostat Temperature Control
Convenient Side Loader & Drip Pan
20.3" Wide x 19.8" Deep x 33.2" High
Pros
Electric smoker; easy to use anywhere
Four chrome-coated trays for convenient combinations
Temperature is precise and easily controlled
No need to open to add wood chips
100% Insulated to hold smoke
Easy setup and cleanup
Cons
Slow customer service on warranty replacement parts
Does not hold much wood, so you should keep an eye on it
Customer Reviews and Scores
The Masterbuilt 30" Electric Smoker gives you 800 watts of cooking power and 730 square inches of cooking surface for large crowds or small recipes. From jerky strips to a full ham shoulder or full-sized turkey your guests will love the smoky goodness. With four chrome-coated trays that you can add or remove, you'll have all the space combinations you need for jerky or large cuts of meat.
This electric smoker is so easy to use it's incredible. With digital controls, it is very user-friendly and adding wood chips through the side tray was a stroke of genius, not more smoke in the eyes or all over the neighborhood. Every part that needs cleaning and maintenance is easy to get to and clean. More importantly, this unit smokes up good BBQ every time. The temperatures hold steady, despite the stiff, cold breezes.
With a digital display thermostat temperature control and 100% energy-efficient insulation you can be assured none of the smoky flavors will escape, even when you add wood chips because you need not open the door to add wood chips to this side-loader.
We found 3,447 customer reviews from verified Amazon buyers with an average rating of 4.4 stars out 5 stars. 84% of those who purchased this Masterbuilt 30" Electric Smoker rated it either 4 or 5 stars.
Amazon's verified customers said, "Great as a first smoker or someone that doesn't want to babysit" … "Smooth, sleek on our porch and fun to use for our summer eating activities." … "brisket and pork butt and the family and friends love me for it" And, "Occasional smoker on apartment balcony"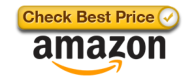 Conclusion
In summary, this is a very easy to use smoker with plenty of room inside for big meals or small recipes. And, since it is electric you can use it on apartment or condo patios where a charcoal or gas smoker/grill would not be allowed. You will love using this great little smoker that's huge inside, so smoked Holiday turkeys, jerky, and ham shoulders are easy to smoke with very little attention.