If you're uncertain whether to cook with a charcoal or gas grill, or if you like using both, a combination or hybrid grill is the perfect solution. These grills are ideal for households where different family members prefer different cooking methods. With a combination grill, you can quickly grill a steak on the LP side or slow-cook ribs for a family reunion on the charcoal side. This versatility makes combination grills the best choice for any cooking situation. Browse our list of the 2023 top-rated gas/charcoal grills to see if one will work for you. We made sure the best hybrid grills were listed for your convenience so you'll always have the top quality at your finger tips.
UPDATE! Since COVID has interrupted many domestic and foreign manufacturers – there are many products that we like and recommended but now are currently UNAVAILABLE for purchase. So, we created an AMAZON Storefront that now provides easy access to top-rated Grills and Smokers in an easy to read list. These are our IDEA LISTS. Please click link to visit our Recommended Hybrid Gas/Charcoal Grills.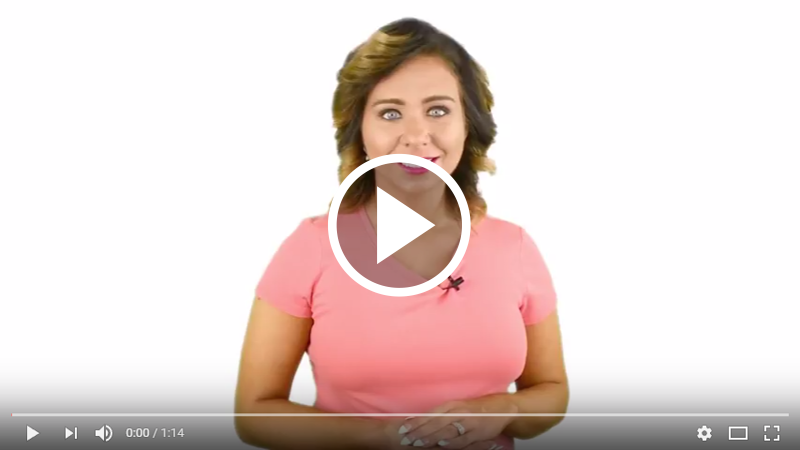 Top Combination Grills Comparison Table
| Brand | Type | Features | Warranty | Rating | Price | |
| --- | --- | --- | --- | --- | --- | --- |
| Char-Broil Gas2Coal | G/Ch | 40K BTUs + 12K BTU Side burner, Hybrid, 3 Burner, 540 Sq. in. | 5/2/1 Year | 4.3/5 | $$$ | Check Price |
| Char-Griller 5050 Duo | G/Ch | 40.8K BTUs + 12K BTU Side burner, Hybrid, 3 Burner, Double bottom, Grate lifter, 1260 Sq. in. | 5 Year | 4.3/5 | $$$ | Check Price |
| Smoke Hollow 8500 | G/Ch | 30K BTUs + 12K BTU Side burner, Hybrid, 3 Burner, Side smoker/firebox, Wire mesh bottom shelf | 1 Year | 4.5/5 | $$$$$ | Check Price |
| Char-Griller E5030 | G/Ch | 24K BTUs, Hybrid, 2 Burner, 606 Sq. in., HD steel construction, Double lined bottom | 5/1 Year | 4.3/5 | $$ | Check Price |
| Char-Broil Hybrid | G/Ch | 30K BTUs + 12K BTU Side burner, Hybrid, 3 SS Tube Burners, Compact, 465 Sq. in total cooking area, Porcelain-coated grates | 1 Year | 4.0/5 | $$$$ | Check Price |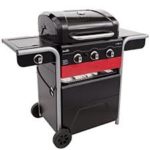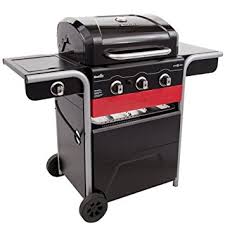 This Char-Broil grill is highly sought after, as evidenced by its status as a top seller on Amazon. It offers the best of both worlds, allowing you to slow-cook with charcoal or quickly cook with propane. With 40,000 BTUs from its 3 burners and 420 square inches of cooking surface, this hybrid gas and charcoal grill is one of Char-Broil's best offerings on the market, and with good reason. Click here for more details >>>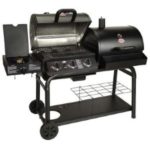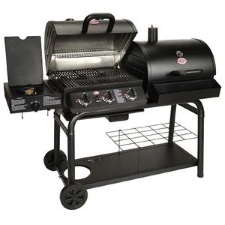 This Char-Griller model is a top-performing hybrid gas and charcoal grill. With a capacity to smoke as well, by adding the optional firebox, this grill can cater to all your cooking needs. It has three burners producing 40,000 BTUs and a side burner with 12,000 BTUs. The two barrels provide a combined cooking surface of 876 square inches, making it a spacious grill for meat. Char-Griller offers a 5-year warranty for the burners and a 1-year warranty for all other parts. Get the full review by clicking here >>>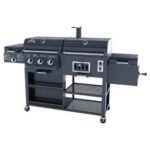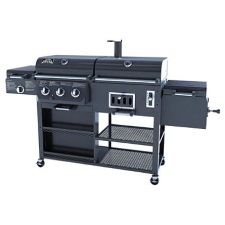 This is a great gas and charcoal combo grill with plenty of space to cook or smoke your preferred meats. If you like smoking your meats, you'll appreciate this model for its large side smoker. It also has a sear burner for grilling those thick steaks. With a total cooking area of approximately 1,435 square inches and 42,000 BTUs, you'll have plenty of room and heat to work with on the 8500 Smoke Hollow Combo Grill. To get more information on this grill click here >>>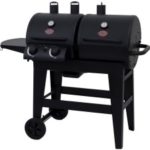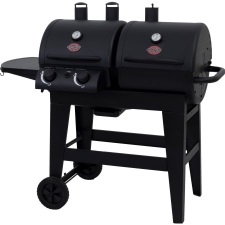 Introducing the Char-Griller Dual 2 Burner Charcoal/Gas Grill, a compact and portable gas and charcoal hybrid grill perfect for those who love the Char-Griller brand. This grill offers 24,000 BTUs and 606 square inches of cooking surface, along with a temperature gauge, electronic ignition, adjustable fire grate, and side tables. It is also compatible with a side firebox. It has received an impressive 4.5 out of 5 stars rating from reviewers on a popular website. Read more about the Char-Griller E5030 >>>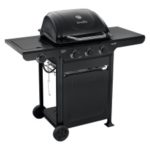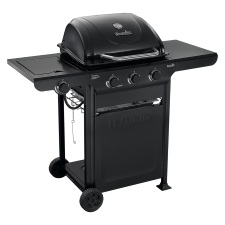 For families who want a compact grill but still enjoy the versatility of a gas and charcoal grill, this 3-burner hybrid is the perfect fit. It comes with spacious side shelves and two wheels for easy mobility and also has a convenient side burner for additional cooking options. Despite its lightweight design, it still delivers 30,000 BTUs of heat, with an additional 12,000 BTUs from the side burner. Assembly is required for this 100-lb grill. Click here to read more about this grill and see if it is your perfect match.