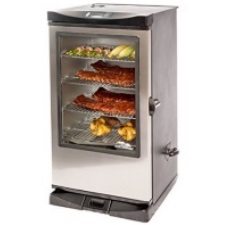 The Masterbuilt 40″ Front Controller Viewing Window RF Remote is the Rolls Royce of smokers. Everything that is optional on other smokers is standard on this one. Masterbuilt pulled out all the stop in the construction of this masterpiece, so I guess you could call it the masterpiece of Masterbuilt! With an integrated control and regulator panel with a blue light-emitting diode (LED) display that allows easy viewing even in the direct sunlight. It has a radio frequency (RF) remote built-in with meat probe and is fully-foam insulated to keep heat in. This Rolls Royce can cook eight turkeys or eight racks of ribs, 16 whole chickens or 75 sausages on four cooking trays. And, the RF remote allows you to control time, temperature, and even internal temperatures from the Living room while you watch the game. This smoker will be the centerpiece of your backyard BBQ gazebo or even on the patio. Even though you won't need any other grill with this huge Masterbuilt smoker with the viewing window in the door for easy checks on the meat's progress. Why spend the exorbitant price per pound for smoked salmon when you can professionally smoke Salmon, Trout, Tilapia and other fish, wild game, a Boston Butt or Brisket, or even a wheel of cheddar.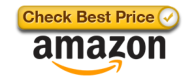 Digital Control Panel & RF Remote
Many of the new smoker on the market today have a digital display panel and some even give you both the temperature and time controls, but only a few give you an RF remote capable of controlling the time, temperature, and internal meat temperature. No need to leave the game just now, you can check everything from your recliner and if everything right, stay with the game. You'll love the convenience of slow smoking a that ham shoulder and full-sized turkey for holiday get togethers with family and friends without having to spend much time checking internal temperatures with that old-fashion probe.
Cavernous Smoking Area
Just think about how much room you will use to smoke meats in this cavernous smoker, 40 inches is almost four feet. You could probably smoke a complete pig in this smoker, ribs, sausage, roasts, shoulders, hams, the whole enchilada! I mean, you'll probably find yourself looking around the kitchen for more food to put in the smoker so you don't waste any of that smoky goodness.
Features and Specifications
975 Square Inches of Cooking Space
4 Cooking Racks
Front Controller with Digital Display and RF Remote
1,200-Watt Heating Element
Huge Interior 40.15 x 20.07 x 25 inches
Pros
Solid stainless-steel construction with thick fully-insulated walls
Doesn't generate much surplus exterior smoke
Large 975 square inch smoking area
Precise temperature control
RF Remote is very convenient
Easy setup & cleanup
Cons
Doesn't hold much wood, but it's easy to reload without disturbing the process
Needs a waterproof cover to protect the digital display
At 73 pounds, you'll need help moving it
Customer Reviews and Scores
This Masterbuilt 40" Front Controller with Viewing Window and RF Remote will make you look like a true professional smoker even as a beginner. Just load up your favorite wood chips, mesquite, hickory, or cedar for full, rich smoked flavor for your roasts, ribs, or brisket, choose apple or cherry for a mild smoke flavor for your pork and poultry cuts, and opt for alder when smoking fish. Oh, you'll want to use hickory to smoke that cheddar, too. You're in control, so use the flavor you desire, your friends, family, and guests will love.
We were able to find 2,607 verified Amazon buyers who reviewed the Masterbuilt 40" smoker with an average rating of 4.3 stars out 5 stars. 81 percent of these customers rated the Masterbuilt either 4 or 5 stars. Just the fact that we could find over 2,000 purchasers who cared enough to write a review is amazing, but to have over 77 percent that were very pleased with their purchase is astounding.
These are a few of the comments from the 2,489 verified Amazon buyers left, "Great smoker. I wish I would have bought one a long time ago." "It has done exactly what I got it for." "It's so easy to use and easy cleanup." "…the remote made my outdoor cooking easier!" And, "I love this oversized, extra-large smoker! Sometimes, I feel like I should add something else because there's just so much room."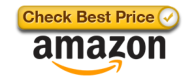 Conclusion
In summary, this electric smoker is sturdily-built and insulated so you won't have to sweat the children being around it while it's smoking. You are only limited to your budget for what you can smoke in this huge 40" smoker. This is a solid appliance you will get years and years of smoking pleasure from, it may even replace your kitchen stove for much of the summer.