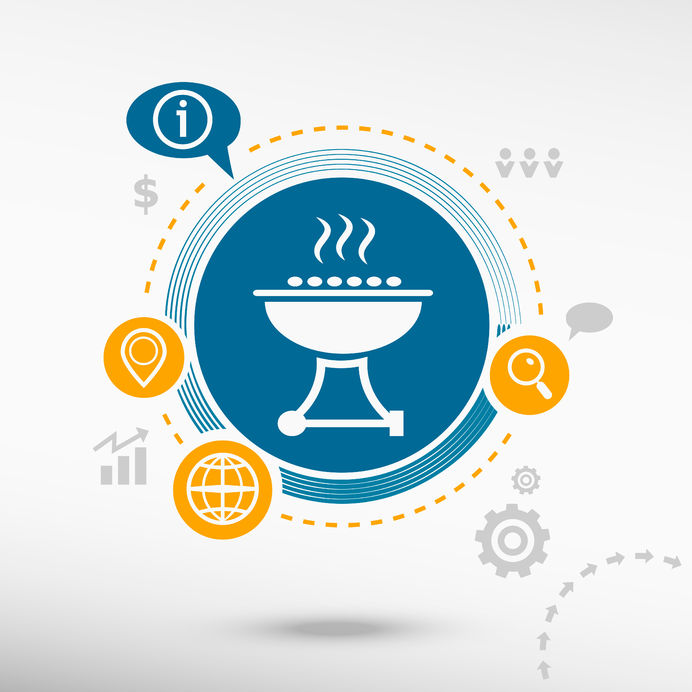 Grill and Smoker manufacturers are taking advantage of many of the latest advances in technology today. Similar to the evolution in mobile devices, WiFi and other hi-tech features are now being incorporated into Grills and Smokers. This new technology is great for addressing several of the most significant problems that people usually face with outdoor grilling.
With that being said, manufactures are now providing the technology that is needed to address certain matters of convenience. For instance, instead of the cook having to stand out doors in the rain to make sure the barbecue does not burn, the new technology is allowing people to check on their meat remotely, including from the inside of their homes.
Fortunately, the newest innovations for 2023 are addressing a wide variety of different concerns. So, for those of you who are interested in the latest inventions and its benefits, you should take a look at each of the smokers and grills provided for you below.
Bradley Smoker – BS916 Digital Blue-tooth Smoker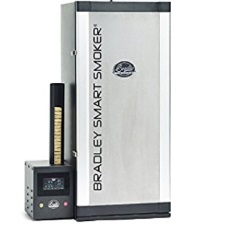 The Bradley BS916 Digital Blue-tooth Smoker has been designed with several different purposes in mind. The manufacturers of this product have obviously considered the feedback from regular users of today's smokers, and they have filled in the gap by providing a total new extended experience. One in which combines the old smoker concept of cooking meet with the latest smart technology.
Great Features of the Bradley BS916 BT Smoker…
Touch screen controls let the cook make several different selections including choose the time, temperature, as well as the amount of smoke required
Designed with 2 different heat elements, one of which has been designed for the oven heat, while the other one Is made solely to create smoke
Manufacturers have included 2 color coded integrated probes, both of which allows each user to track the temperature of the food throughout the entire process
Pros
Gives user the capability to use Bluetooth technology operate it with remotely. Therefore, even if it is a sunny day and not rainy, cooks can check the status of its temperature ranges without having to go outside to do it
Comes with temperature probes that allows the user to check the temperature of the meet without having to constantly open up the smoker to check it
Manufactures have designed with an app that helps the user with changing the temperature whenever it is needed
Cons
Grill does not heat up past 200 degree temperatures
Defects in the door because it has been reported as falling off
Smoke Hollow – 36" Digital Smoker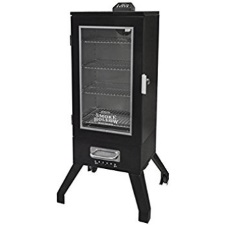 The Smoke Hollow 36" Digital Smoker is ideal for people who want to cook all night for all of the fun outdoor holiday, but do not want the unnecessary hassles of overcooked and under cooked meat problems that can easily wreck a perfect day. With this new electronic digital controlled smoker, everyone who is assigned with these duties can cook their favorite barbecue dishes with perfection every time.
Features of this Smoke Hollow 36 inch Digital Smoker…
Comes with digital Electronic Controls that can be operated easily with both Push Button On/Off and Temp/Time features
Manufacturers have designed this smoker with a tempered glass viewing window that makes it very simple to view the what's happening on the inside without having to open the door
3.0 cubic ft. Cooking capacity that has been designed for large jobs
Gives the user the capability to add wood chips with ease
4 chrome-plated cooking grids with multiple adjustment levels
Pros
Digital control is great for adjust temperature settings as needed in order to make sure the heat distribution is even throughout
Made with ease in assembly so virtually any user can put it together without a lot of unnecessary hassle
Stylish designed that is well thought out for people who like to smoke their meat and vegetables
No more problems with running out of propane fuel since it works by putting in wood chips
Cons
Some users say that its overall capacity is a little too small
Unit can only manage 275 degrees
Masterbuilt – 40" Front Controller RF Remote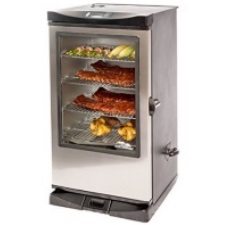 The Masterbuilt 40" Front Controller RF Remote Smoker has been designed with both the pros and the beginners in mind. It does not matter if it is a small dinner with friends and family or a competition being held among friends, this technologically advanced smoker has everything that cooks need to do their very best. No more problems with propane or charcoal and the hassles that comes along with using them, especially since it is designed with electronic systems that makes it easy.
Features of the Masterbuilt 40 inch RF Remote Electric Smoker…
Comes with 975 sq. Inch of cooking space
Users can enjoy the incorporation of a smooth operating wood chip loading system that makes the entire start-up cooking process simple for anyone to assist them with getting ready
For easy access, users can benefit from a front access drip pan
Manufacturers have included a drip catching system that make clean much easier to complete quickly
Makers of this master built cooking equipment have included 4 cooking racks along with an internal light. • Heating Element:1,200 watt and RF Remote
Pros
Smoker comes with a built in meat thermometer that works very well, and is dependable for ensuring all meat and vegetables are cooked just right
New smart technology remote technology gives the cook the capability to check on their meat temps without stepping out of their home
Makes life easy so people can do more than one thing at time. Particularly, when preparing the home or the outside for guest to be received
Assembly is easy for new users to complete without unnecessary difficulties
Cons
Some customers have complained about the heating element quitting on them after a couple months
Control panel may need to be replaced if it dies out
Memphis Grills – Elite WiFi 39" Built-In Grill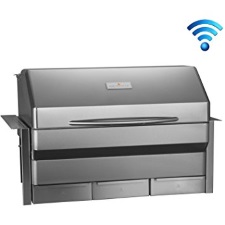 The Memphis Grills Elite WiFi 39" Built-In Grill has many different innovative features that can be used by anyone who like good barbecue every once in a while, or on a regular basis. It has been designed with smart technology that gives users the capability to grill, while also taking care of other important issues around the home. Since it has been built with high tech Wi-Fi functionality, cooks have the freedom to control this grill remotely. So, they are not tied to the grill for several hours until the meat is completely done.
Features of this 39 inch Built-In Grill by Memphis Grills…
Comes with even heat distribution along with efficient pellet burn capabilities because it has been made with double wall construction and a dual convection fan.
With WiFi capabilities, its unmatched by other grills in the industry.
Users can also take advantage of a mobile app that allows them to both monitor and adjust food temperatures as needed.
Users can take advantage of email and text alerts by taking advantage of mobile smart technology features.
Constructed with an advanced circulation system that has been designed to eliminate hot spots, while also speeding up the grilling process.
Pros
Great BBQ grill that has been designed to cook all kinds of different meats in different ways. Since it can easily acts as a BBQ/smoker/convection oven all in one, people can buy it for multiple purposes
Since it uses wood pellets, no one one has to deal with propane gases anymore
Lives up to its names Memphis is known for making the best barbecue for the elite
Great for situating as the grill in near an outdoor kitchen
Cons
May be a lot more than some people may want since it can double as a convention oven
Green Mountain Grills – Davy Crockett WiFi Pellet Grill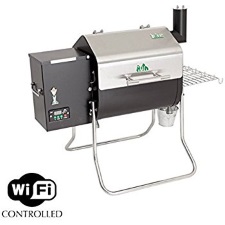 The Green Mountain Grills Davy Crockett Pellet Grill can be described as the ultimate in portable grills. This is because it is packed with the latest smart technologies that will not only make it a good buy, but also one of the best experiences in grilling for family and friends. Just like mobile is now the in thing, it also has mobile features that takes advantage of Android application, WiFi. With all of these features, this technology has been developed for 2023 to make it Convenient for tailgating parties, camping ventures, hunting, music festivals, house boating and any other activities that people can celebrate with an outdoor barbecue.
Features of the Green Mountain WiFi Enabled Pellet Grill…
Comes available with open flame technology
Runs on 3 power options, including 110V or 12V
Designed with Folded Legs for better portability
Designed with features that makes it Ultimate Tailgating Grill
Manufactures have included Sense-Mate, which makes is the technology provides it with a thermal sensor. This thermal sensor helps to monitor grill temperature on a continuous basis.
Pros
Wi-Fi remote feature is very useful for those who do not want to stay in the same place while the meat is cooking
Solid construction, most people say that it is built well enough for it to make grilling easy for the novice
Designed for people to place on the grill, leave and control it remotely from somewhere else
Made with plug and play features so it easy to move from one place to another
Portable for camping, fishing and for home use
Grill is easy to setup and use
Cons
Temperatures can be stuck between setting so it can go full blast or too low to cook foods completely
Summary
Hi-Tech Grills and Smokers are great for a number different reasons. Because manufacturers are using the latest innovations to meet various needs, grilling and smoking is being taken to a completely new level as now is necessary for 2023. Just like other trends that says go mobile, this industry is also using the type of technology that allows cooks to move around much more freely. Particularly, because WiFi, and other innovations are making it much convenient to control grilling and smoking activities remotely from other places with the use of mobile apps.