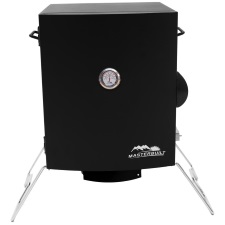 The Masterbuilt Portable Electric Smoker model # 20073716 is truly portable, at only 21.6 pounds with foldable legs it is easy to transport and store just about anywhere. It is one of the smallest smokers on the market today. Many recreational vehicle (RV) owners prefer this portable smoker for road trips. They love being able to smoke five or six salmon fillets or a 15-pound roast or ham shoulder in this great little smoker with a convenient in the door, easy to read temperature gauge so there's never a question about the inside temperature. It's big enough for a small rack of ribs and a small Boston Butt roast that's just right for two to four people; however, if you remove one rack, you can smoke a 15-pound roast or turkey easily. We like another Masterbuilt Smoker we list on our site which you might like. It is the Masterbuilt 30″ Digital Electric Smoker and is getting great reviews! It is a larger capacity smoker than this one (about 730 Sq. In.)  and costs a bit more, but if you want the extra smoking space it could be a winner.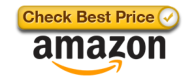 Fully Portable
This Masterbuilt electric smoker is as advertised, truly compact and fully portable. The legs fold up and the removable water pan and chip tray makes it easy to store and transport. This is the perfect little smoker for tailgate parties, picnics, and RV road trips. Once you pull into the campgrounds or sports arena parking lot, setup takes just a few minutes, so you can throw a bunch of brats on the bottom rack and a rack of ribs on the top rack and you're ready. At home or out-and-about, this is your best bet. You can even order the optional but convenient Masterbuilt Smoker Carrying Bag for just $39.95 and you still haven't spent $150 for a great little smoker that's fully portable.
1400-Watt Heating Element
The Masterbuilt portable electric smoker has a 1400-watt heating element to stoke the smoke. Try to remember this is a small portable smoker, so you will need to keep it filled with wood chips. For a 12-hour roast, rack of ribs, or smoked turkey you will likely need to refill the wood chips four times depending on your settings, low, medium, or high heat from the 1400-watt element. So, make sure to stock up on lots of wood chips for those long weekends.
Features and Specifications
1,400-Watt Heating Element
Two 12" X 12" Chrome Coated Smoking Racks
Easy-to-Read Temperature Gauge
Easy Analog Settings, low, medium, and high
Fold-Up Legs for Transport & Storage
23.42 x 23.62 x 15.94 Inches
Pros
Light-Weight and fully-portable, only 22 pounds
Door seals tight to hold in the smoke
Removable chip tray and water pan
Easy to Transport and Store
Comes fully assembled
Cons
Grease catcher can get clogged
Short warranty period (90 days) but it's less than $100
Customer Reviews and Scores
The Masterbuilt Portable Electric Smoker is perfect for any porch or patio because of its small footprint. And, it's electric, apartment and condo owners will not need to worry about the landlord raising a fuss about this great little smoker, but you may need to watch them around the food. Plus, this little smoker might just be the centerpiece of your backyard BBQ gazebo when you don't feel like dealing with the hassle and mess of a charcoal grill. Just spark up the smoker, put in a rack of ribs and a whole chicken with your choice of wood chips, Mesquite for hardy smoked flavor, a hickory-smoked brisket or sharp cheddar cheese, or choose apple or cherry to smoke fish and poultry for a milder smoke flavor.
This smoker is easy to setup, so you can get the party started quickly and it cleans up easily, too. Therefore, you spend hours after the party or BBQ getting things ready for the next time.
We found 186 verified Amazon purchasers who gave it an average rating of 4.2 stars out 5 stars. 75 percent of customers who purchased this Masterbuilt electric smoker rated it either 4 or 5 stars.
These are a few of the comments we found from verified Amazon buyers, "The product is really good and working well as described." … "Both beautiful and simple, and this is what I want and need." … "Smaller than I had thought it was going to be, but works perfectly. Hubby loves it!" And, "I have three smokers now, I wanted a small one that could be portable."
In summary, this is a compact, fully portable smoker for get togethers or family road trips, tailgate parties, or picnics. As long as you keep in mind that this product was designed to be portable and realize its limitations as a small portable smoker, this will get the job done. It's small, well-built, affordable, and easy to maintain for years of smoking fun.