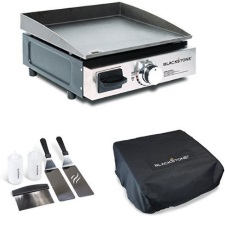 The Blackstone portable gas grill with griddle kit and carry bag/cover is everything you want in a small gas grill, with 260 square inches of grilling area. The 15.25 inch x 17 inch griddle is big enough to cook four 6 inch pancakes or ten or twelve 4 inch pancakes. That's a lot for a portable grill, but the 12,000 BTU output is what's really amazing for a portable grill with a one-pound disposable gas can. You're going to love the easy setup for tailgate parties, hunting trips, or just about any outdoor party or road trip. Just pull into the camping area, pull out the Blackstone, and have dinner started in minutes. Or, breakfast… with pancakes! Your family will love you for it.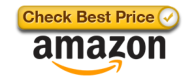 The Griddle Kit
The Blackstone portable gas grill comes with a griddle kit and that's got people raving about this portable grill. This amazing 17 inches by 15.25 inches griddle is perfect for fundraisers for the kid's Little League or Ballet troop. You can buy one for less than $150 and make that back with the first pancake breakfast. In addition, besides the carrying bag/cover, it comes with two liquid syrup or ketchup dispensers, two stainless-steel spatulas, and one stainless-steel chopper or scraper. These are professional restaurant grade tools, just like you see used on the grill. Oh, we mustn't forget the cookbook, which will help you make mouthwatering Lemon-blueberry pancakes or Blue Cheese Sliders. Click Here for the 5 Piece Blackstone Signature Griddle Accessories (2 Spatulas, 1 Chopper Scrapper, 2 Bottles and FREE Recipe Book)
Table Top Carry Bag & Cover
Blackstone thought of everything with the Griddle kit and carry bag, the cover is water-resistant and fits snugly over the grill to prevent the wind from blowing rain up under the Blackstone. The carry bag and cover makes it convenient to take this portable grill to the park, sporting events, and camping. No more lugging around that big kettle charcoal cooker. Just grab the Blackstone and a can or two of propane gas and you're ready for whatever your day entails. What's more, the heavy-duty polyester and High-Impact (HI) Resin handles are very durable. Click Here for the Blackstone Signature 17 Inch Table Top Griddle Carry Bag & Cover.
Features and Specifications
260 square inches of grilling area
12,000 BTU heat output
Heavy-duty wind and rain resistant carrying bag and cover, included
5-piece BBQ/Griddle Tool or Utensil Kit, included
"H" shaped burners for even heat distribution
"The Art of Griddle Cooking" Cookbook, included
Pros
One-pound disposable gas can (not included) and igniter (included)
After seasoning, it easily cleans up with a paper towel
5-piece BBQ/Griddle tool kit
Completely portable
Cons
May warp if not seasoned properly or max heat applied and maintained at ignition
Customer Reviews and Scores
With the Blackstone portable gas grill with griddle kit, you have 260 square inches of grill space and 12,000 BTUs of heat output. This portable grill is easy to setup, cleanup, and tear down so you can spend time enjoying your event or the outdoors.
We found 6,450 customer reviews on Amazon (verified buyers) with an average rating of 4.8 stars out of a possible 5 stars. Out of the 6,450+ customer reviews, 96 percent rated the Blackstone Table Top Grill either 4 or 5 stars. A few said they had a problem with the griddle warping and the Amazon CS representative offered to replace those defective units. One reply stated that you must season it with peanut or flax oil as it states in the instructions, and do not use max heat right away to keep it from warping.
Just reading some of these comments will convince most looking for a portable grill and griddle that this is a premier option. "Fantastic Unit and I recommend to anyone" "Very well made, I would buy again in a minute!" … "Best $ ever spent on a cooking appliance" … "Everything tastes great, thick steel holds heat well and once seasoned it's like cooking on cast iron." and, "After reading this review (about warping), and Amazon's CS response, I'm buying one! Awesome customer service."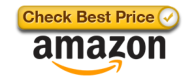 Conclusion
In summary, with all that you get for the money, this is a great buy for someone looking for a portable gas grill and griddle, with all the added freebies, such as the 5-piece tool kit, cookbook, carrying bag, and cover. You just can't go wrong at this price.