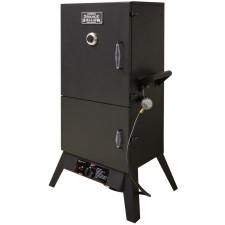 Do you love to cook your favorite meats low and slow? Do you just crave that one of a kind smoke flavor that only comes from that slow cooking process? Then the Smoke Hollow 38202G 38-inch 2-Door Propane Gas Smoker is what you're looking for. This is a versatile smoker that is great whether you're just starting out or you're an experienced grill master. The product provides you with over three-cubic feet of space to cook your favorite items such as Boston Butt, pork shoulder, ribs, and so much more. There are even sausage hangers included helping you get that unique smoked sausage you're after. This unit's output is 20,000 BTU's which is sufficient for most backyard smoking however, you if want a larger smoker that can handle more meat and greater output, try the Smoke Hollow 44″ Propane Gas Smoker that boasts two 12,000 BTU stainless steel burners. It is big enough and can handle the needed smoking power for a large gathering.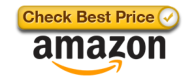 Multiple Cooking Grids and Adjustments
When you're slow cooking your favorite meats and veggies, you need a smoker unit that is versatile and able to adjust to your plans. That is exactly what this grill offers. You have four chrome-plated cooking grids that allow you to cook a variety of goods at one time. Each grid can be adjusted to allow the perfect smoke flavor to seep into your food. It also allows you to move some things closer to the heat source while others are farther away. With four cooking grids available, you can also cook for a larger group and have everything come off at once instead of in multiple batches. Sausage hangers also offer even more space for cooking your favorite items in the low and slow method.
Maximum Control
When it comes to smoking your food, you need to know that you've got the control you require to make sure everything is done right the first time. That comes with the upper and lower vents provided on this smoker. It allows you to adjust the smoke by opening or closing the vents so that your low and slow cooking is done right.
You'll also enjoy the external temperature gauge that is provided. It allows you to know just what temperature your foods are cooking at so that you can maintain the proper temperature for a duration. Another great feature that helps you stay in control is the easy to use push button ignition. You do not have to worry about lighting the burners as you can do so with the touch of a button.
Features and Specifications
Over three-cubic feet of cooking space provided
20,000 BTU's
Multiple adjustment levels for cooking grates
Sausage hanger provided to hang and smoke your favorite sausage recipes
Easy set-up
Easy start-up with a push button ignition system
Vents on the upper and lower levels to get the most control over your smoking process as possible
Steel that is welded together for a durable and sturdy design
Pros
Accurate temperatures
Separate meat chamber
Efficient fuel burner
Easy assembly
Cons
No hole for internal thermometer
Flame went out easily
Customer Reviews and Scores
At the time of this review, the Amazon website had over 285 different reviews for the Smoke Hollow 38-inch 2-Door Propane Gas Smoker. The overall rating was a remarkable 4.5 out of 5 stars available with about 86% of reviewers rating it a 4 or a 5-Star Rating. The apparent thoughts on the smoker are overwhelmingly positive and most people who purchased the item have thoroughly enjoyed using it. They had great things to say about their experiences. While there are more positive than negative comments, there are some remarks you need to consider when you may purchase this smoker.
Some of the customers had problems with the item being damaged upon receiving it. Others stated that when they received the product it already had rust on the item. Still, others had issues with seals leaking on the grill making it hard to maintain temperatures.
For the most part, everyone who purchased the grill was pleased, however. There are over 280 positive reviews on Amazon as of the writing of this article.
Those who wrote positive remarks said things such as … "Everything I wanted in a propane smoker" … "Very efficient fuel burner" … "I really like this smoker" … "Good value" … "Does what it says it will do" … "Awesome first smoker".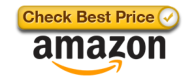 Conclusion
In summary, the Smoke Hollow 38-inch 2-Door Propane Gas Smoker seems to be a great purchase for those wishing to get a smoker unit for their backyard cooking arsenal. You can easily cook a variety of meats and veggies while maintaining a consistent temperature throughout the process.
Whether you're cooking for a large group or a small family group, you'll enjoy the versatility this smoker unit offers. Join the ranks of other experienced smokers with this new tool in your backyard. You can use it as a smoker, outdoor oven, and so many other methods to help you create the perfect dinner for your friends and family. See what so many others have to say about this fantastic smoker and consider purchasing one for yourself.