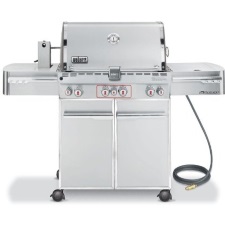 The Weber Summit Natural Gas Grill with Tuck-away rotisserie grill is designed for a natural or city gas line plumbed in and even comes with a 10-foot flexible hose to easily finish the project without getting the plumber back out there. If you already use gas or have plans to plumb in natural gas to your porch, patio, or backyard BBQ area this is exactly what you want. No more running out of gas in the middle of the grilling process, however if you prefer the Liquid Propane version … then check out the Weber Summit 7170001 S-470 LP Grill. The Summit S-470 Grill with natural gas hook up is the crowning glory of Weber grills. Everything that the Genesis grill has meant to its owner for the last decade or more was poured into this grill and then some. Adding the convenience of piped in natural gas is the icing on the cake.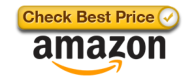 The Searing Station, Infrared Rotisserie Back-Burner, and Smoker Box
With the addition of the searing station, rear tuck-away infrared rotisserie, the smoker box, the side burner, and the warming area, you have six or more stations at which to cook. You can sear steaks, smoke birds, fish, or meat, roast a bird on the infrared rotisserie, steam clams, corn, or other veggies with the side mounted 12,000 BTU burner, while you grill the hot dogs, burgers, or buffalo wings.
You will have the max heat of 48,800 BTUs spread over four independent stainless-steel burners to barbecue your meat perfectly, warm the buns, and keep the caramelized veggies warm for use on the 111 sq. in. warming area.
Large Grilling Area with Stainless-Steel Shrouds
The stainless-steel shroud with polished handles and trim, the center-mounted temperature gauge, with accent-colored, cast-aluminum end caps make it an attractive addition to any porch, patio, terrace, or backyard gazebo. Beach residents will love the integrated stainless-steel encasements due to rust-resistant finish and even after many summers in the salty air, it retains its highly-polished finish and great looks. Additionally, everyone likes the looks of a polished chrome finish on every cooking surface and the stainless-steel grill. When you keep this grill covered when not in use, you can count on many years of service and sturdy good looks without much maintenance required.
This grill has a 468 square inch grilling area that is perfect to plan that large beach or backyard BBQ parties. It has two working surfaces, four burners, enhanced lighted control knobs, one grill-out light, six tool hooks 9.5 mm Diameter stainless steel rod cooking grates, stainless steel shroud and Flavorizer bars and much more!
Features and Specifications
468 sq. in. primary cooking area
48,800 BTU natural-gas heating capacity
12,000 BTU per hour from side burner
10,600 BTU per hour sear burner
Two heavy-duty front locking casters
Stainless-steel Flavorizer® bars
Large-Size, 30" in Length X 66" in Width X 57.1" in Height
10-foot flexible hose
Six tool or utensil hooks
Weber® cookbook
One Grill Out® handle light
10-Year Limited Warranty
Made in the USA
Pros
Sear station grills steak perfectly in minutes
Sturdy build
Multiple cooking choices
Infrared rear-mounted rotisserie
Cons
If not covered, rainwater drips into the grease pan
Customer Reviews and Scores
The Weber Summit Natural or City Gas Grill is very versatile, use the sear station to sear some steaks in minutes or slow-cook a rack of ribs or a Boston Butt throughout the morning and mid-afternoon for perfect roasted goodness. While you're slow-roasting, use the infrared to roast a turkey, chicken, or duck on the rear-mounted rotisserie that tucks away when not in sue.
Your grilling utensils are always handy with the six mounted hooks on the side burner and prep area. Weber knows how to arrange things on a grill because they have many years of experience and they've used all their trick of the trade on this revolutionary grill.
We found 275 customer reviews for the Weber Summit Natural Gas grill with an average rating of 4.4 stars out of a possible 5 stars. 84 percent rated this natural gas grill either 4 or 5 stars. However, to give you a better appreciation and larger population we have incorporated the reviews of the Weber Summit Liquid-Propane Gas Grill, which is basically the same grill with a 20-gallon propane tank.
Many former Genesis owners upgraded to the Summit within the last few years and almost all are happy with their decision to stay with Weber. Additionally, they were pleased with customer service from both Weber and Amazon. "So long Genesis, Hello Summit!" … "You will never long for a charcoal grill again!" … "Saved a bunch on [it] compared to a local purchase." And, "The Summit S-470 has more than met my expectations."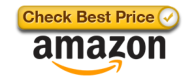 Conclusion
In summary, the flexibility and added convenience of natural gas with the Weber Summit gas grill is what avid backyard BBQrs are buying. Many insist the smoker box, infrared rotisserie, and sear station make this the grill to own this decade. It will make an attractive addition to any backyard BBQ setup with its modernistic, yet clean chrome and stainless-steel finish.