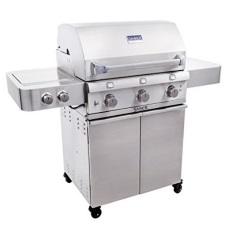 There are few grills where one does not find at least a couple negatives. This however might be one. The reviews on Amazon of the SABER SS 500 Premium Stainless Steel 3 Burner Gas Grill are spectacular. It appears to be made in "grill heaven," a 3 burner wonder that ignites with a simple button-push and has what are called "peaks and valleys," patented grates that do away with flare-ups and allow for the meat's natural juices to stay juicy and not dry up. For its size, 500 square inches of cooking space is remarkable, as is the other 175 square inches housing the warming rack. The stainless-steel is made of the highest grade which rounds out a great offer from Saber.
For those BBQers who have a large family or you simply want more cooking area, then check out the Napoleon Prestige 500 NG Grill, which has 6 burners, output of 80,000 BTU's in total. The primary cooking space is 500 square inches!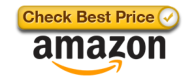 Gauges/Buttons
Very rarely do folks get jazzed about gauges and buttons. But this is one of those times! The SABER 500 Premium Stainless Steel Gas Grill has some of the most easy-to-read gauges you will find on a grill today. Remember those gauges that you thought you needed an algebra lesson to decipher? Saber did away with the nonsense and these gauges make grilling easy and fun again. The ignition button is another winner here, igniting all burners simultaneously to ensure for even and consistent cooking throughout.
Warming when not cooking
The SABER 500 Premium Stainless Steel Gas Grill has incorporated something in the grilling world that is a constant source of pain when not available – the warming rack. Some warming racks are simply pieces of steel jammed into the top of the grill. Jammed without a purpose, we like to say. This Saber rack however rotates in and out, thus allowing the grill-master to use it when necessary, and then collapse it when not in use to take advantage of a wider cooking space.
Features and Specifications
It weighs roughly 218 pounds, one of the lighter grills in this category.
Convertible from propane to gas, and vice-versa via Saber patented technology.
Infrared cooking system with easy to read gauges.
Efficient fuel use, utilizing 30 – 50 percent less gas than similar models.
Dual control burner capable of boiling water on the side.
Pros
Easy to assemble
Heats quickly
Cooks evenly
Value for the money
Cons
Cooks too Evenly (more on that below)
Not that aesthetically pleasing
Heavy
Customer Reviews and Scores
As we mentioned earlier, rave reviews for the SABER SS 500 Premium Stainless Steel 3 Burner Gas Grill.
"Cooks evenly every time. Heats up extremely fast. Nice big grilling surface. Definitely worth every penny!"
"Very happy with purchase. Yes you really can cook bacon very easy on this grill. The all stainless looks very expensive and is very heavy."
"I will start out by saying this grill is substantial. It will go perfectly with and hold its own in any outdoor kitchen. Just lifting the lid you realize wow, this is in a category all its own."
At the time of this writing, there are 14 customer reviews on Amazon sharing their thoughts on the grill as well. Those who have bought and used the grill give it a 3.3 out of 5 stars with 45% of votes being the 5-Star and 4-Star review.
They went on and on, quite impressive. However, we did find a critique from a gentleman who stated, "On the positive side, it does cook food very evenly and can have a good effect on "juiciness". However, I also owned a Char-Broiler Infrared grill and ended up giving it away because I like the slightly uneven cooking of traditional grills. I think they add that grilled effect to my tritip, brats, chicken, etc."
Not much to say to that other than the guy likes uneven cooking. Enough said …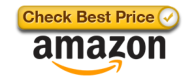 Conclusion
In summary, the SABER SS 500 Premium Gas Grill is a winner in every conceivable category (except uneven cooking). We can't imagine you unsatisfied with this purchase. Yes, it is over $1,000, but there are probably few grills that match up in the same price point. A solid buy, through and through.