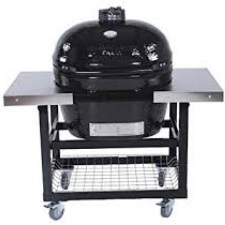 The Primo Ceramic Oval XL Charcoal Smoker Grill is made right here in the USA. Just one look and you will know this ceramic smoker sits on a solidly constructed cart with stainless-steel side preparation tables. The Oval XL is one of the largest ceramic cookers available – the XL is for extra-large and oval describes its unusual, but efficient shape, which allows for indirect or direct heat and accommodates even very large birds or cuts of meat with the highest lid among all kamado-style grills, so you're all set for the holidays. But, there's no need to wait, you can practice with a Sunday smoked duck, pheasant, or chicken. Likewise, there's no need to limit yourself to birds, why not smoke a pork shoulder, brisket, or Boston Butt roast?
Primo Super-Ceramics
The superior construction grade super-ceramic is porcelain glaze coated, lead-free, and scratch-resistant. It retains heat efficiently for many hours of evenly distributed heat that covers the 400 square inch cooking area. This system of super ceramics is perfect to maintain steady, even cooking so that whatever you cook is equally cooked throughout, so there is no chance of burnt or raw spots.
Large Smoking Area
With the Primo Ceramic Charcoal Kamado-Style Smoker boast one of the largest smoking areas, which just begs you to go out and find the biggest bird or ham shoulder to smoke to perfection for your guests. Unlike buying an already smoked shoulder or bird, you can choose the smoky flavor you desire for your meat, most use mesquite, but you don't have to restrict yourself to the usual.
Features and Specifications
Reversible Porcelain-Coated Grates
Made in the USA
Premium-Grade Ceramic Construction – No Lead
Convenient Stainless-Steel Side Shelves
Lifetime Limited Warranty with a 20-year ceramic parts guarantee.
Pros
Large smoking area
Made in the USA – helps keep our country working!
The distinctive Oval shape is just right for even the biggest turkey
Premium quality super-ceramic increases durability and efficiency
Cons
Slow customer service on warranty replacement parts
You must pay shipping for replacement parts
Customer Reviews and Scores
The Primo Ceramic Charcoal Smoker Grill on a wheeled (lockable) cart with side tables is very well constructed and made right here in the USA!
A few customers, from other retailers, complained that the ceramic cracked after three or more years use and even though there is a 20-year guarantee, you must pay the shipping for replacement parts and since ceramic is heavy it could be expensive depending on how far you live from the factory. We're not sure how this would work with Amazon, but since Amazon pays shipping, it may not be an issue. This seems like a minor thing after years of use and free replacement.
The large size oval shaped charcoal smoker is built to last, with a premium-grade ceramic outer shell, four lockable wheels, and stainless-steel side shelves.
Considering that this is a new smoker/grill, we found only 12 customer reviews on Amazon with a rating of 3.6 stars out of 5 stars. 87 percent of customers who purchased the Primo from other retailers rated it either 4 or 5 stars. The overall rating from customers for all retailers that we found rated it good or superior and 90 percent were happy with their purchase.
Although there are only two reviews on this smoker/grill from Amazon so far, those two said, "Outstanding Grill – Built like a Tank!" and "Very easy to use, extremely well made, and very functional." Some customers who bought this smoker from other retailers said, "So far I've smoked Ribs, Chicken, Tuna, and Pizza… couldn't be happier." And, "I love the over-sized extra-large Primo! I can put 4 huge briskets on it."
Conclusion
In summary, this smoker/grill is a sturdily-built US made product at a reasonable price. You're only limited by your imagination when choosing what to smoke in this giant smoker. You should get many years of joyfully smoked Holiday turkeys and ham shoulders.