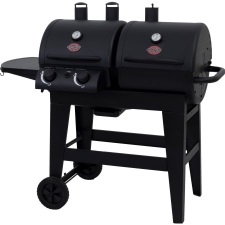 The Char-Griller dual two-burner charcoal and gas grill is made from heavy duty steel, so it is durable and continues to look great on the back deck even after dozens of uses. Just ask grand-mom how durable and stain-resistant her cast-iron pans are. That's what you are treated to from these cast iron grates. If you ever had a lid-mounted heat gauge, you know how after only a few months of weatherization those gauges look old and you're not even sure they're still working, but these stainless-steel gauges resist the rust and withstand the heat to stay professional looking even after months of use, and we assume, since these are stainless-steel, many seasons of use.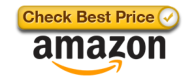 Gas & Charcoal Side-By-Side Convenience
Who says you can't please everyone? This grill even makes it easy. The dual two-burner combines the convenience of gas with the great flavor of charcoal on the same grill, but side-by-side so there's no conversion necessary. While you're char-coaling the ribs with a few mesquite chips to enhance favor, you can simultaneously grill the hot dogs with gas and warm the buns on the other burner.
Large Cooking Area
With this dual-burner gas and charcoal grill, you will get 606 square inches or grilling space, 303 square inches on each side to give you the convenience of grilling large pieces at low temperatures with gas, such as a Boston Butt, a large rack of ribs, or a Brisket. While, at the same time, providing great tasting burgers and steaks that have been char-grilled with hardwoods that have nearly no resin, like mesquite or hickory (optional of course). Also included with this Char-Griller E5030 model is a convenient 131 square inch warming rack to keep those meats resting or veggies warm. If you need a larger cooking area, you may want to consider the Char-Griller 5050 Duo Combo Grill which boasts 1,260 square inches of total cooking area.
Features and Specifications
606 inches of total grilling are, 303-inch cooking area times two, one for charcoal and the other for gas
Cast-iron grates
Heavy-Duty Steel Construction
Convenient Side Shelf
Stainless-Steel Temperature Gauges
Pros
Excellent grill for the price
Sturdy build
Convenient dual-burners
No charcoal, no problem
Customer Reviews and Scores
The Char-Griller Dual 2 Burner Charcoal and Gas Grill is just what every backyard barbecue needs to provide slow-cooked big cuts of meat, and while you're making the final preparations on the side shelf, you can quickly grill those burgers, hot dogs, and steaks with charcoal on the other burner without worrying about burnt dogs and burgers or tough, overcooked steaks.
Since this is a new grill, we found only 21 customer reviews on Amazon with an average rating of 4.6 stars out of a possible 5 stars. 90 percent rated this dual-burner grill either 4 or 5 stars, while only a couple rated it 3-stars. Other retailers carrying the same product at comparable prices showed positive ratings of between 84 and 94 percent.
Although there are only a few reviews on this grill so far, I think you must agree with these ratings. "Excellent purchase!" "Best of both grilling worlds." and "My husband loves the dual grills." Some reviews from other retailers conclude, "Very attractive and sturdy." And, "Very reasonable price."
One customer compared the price with a local store and found them about the same, but with Amazon, they got free shipping so they did not have to bother a friend for a truck to transport it, which could be a positive for some.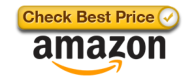 Conclusion
In summary, this grill is very convenient to use and its built sturdy at a reasonable price. It will provide most backyard BBQers great weekend grilling for years to come.